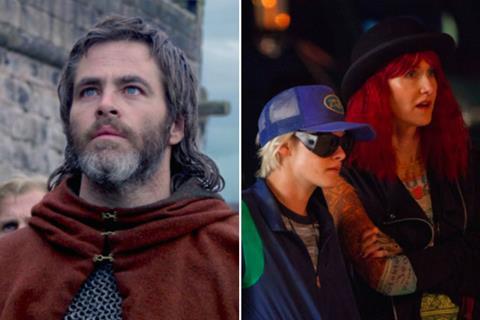 The world premieres of David Mackenzie's Outlaw King starring Chris Pine as Robert The Bruce, and Justin Kelly's Jeremiah Terminator LeRoy with Laura Dern and Kristen Stewart will bookend the 2018 Toronto International Film Festival (TIFF) which will take place from September 6-16.
Netflix's Outlaw King chronicles the rise of 14th-century Scottish hero Robert the Bruce and will kick off the festival at Roy Thomson Hall. Pine previously starred for Mackenzie in Hell Or High Water and reunites as the Scottish warrior who leads a band of outlaws to reclaim the throne from the occupying English forces of Edward I.
The film also stars Aaron Taylor-Johnson, Florence Pugh, and Billy Howle. It will open in select theatres and launches globally on Netflix on November 9.
"TIFF's Opening Night Film, Outlaw King, tells a powerful story that is rich in drama, excitement, romance, and adventure," said TIFF director and CEO Piers Handling. "Audiences are promised a thrilling journey back in time, as David Mackenzie masterfully unwraps history with taut dramatic flair and brings to life the true story of Scottish hero Robert the Bruce. Gripping performances led by Chris Pine and Aaron Taylor-Johnson make this a classic, entertaining, and action-packed Festival opener."
Mackenzie thanked the festival for the opportunity to be the first Scottish epic to open Toronto, adding that "Scotland and Canada's histories are bound together, forged in the crucible of the struggles of history, bringing this day an affinity and sensibility that I hope will translate to a profound, visceral, and riotously entertaining experience."
Justin Kelly's Jeremiah Terminator LeRoy will close the festival and stars Laura Dern as the literary hoaxer Laura Albert, whose debut novel as pseudonymous young queer man JT LeRoy becomes a hit, whereupon she enlists her boyfriend's androgynous sister Savannah Scoop (Kristen Stewart) to pretend to be LeRoy.
The film is adapted from Knoop's memoir Girl Boy Girl: How I Became JT LeRoy, and was produced by Patrick Walmsley, Julie Yorn, Thor Bradwell, Gary Pearl, Cassian Elwes, Giri Tharan, Mark Amin, and Dave Hansen. Elwes and CAA represent US rights, and Fortitude International is handling sales outside the US.
"With Jeremiah Terminator LeRoy, Justin Kelly brings to the screen a truly unbelievable story that captivated a nation," said TIFF artistic director Cameron Bailey. "The storytelling is powerful and the characters are vivid, really evoking the idea that you have to see it to believe it."
"I can't wait for people to see the fascinating true story behind JT LeRoy, brought to life via incredible performances by a total dream cast," said Kelly.