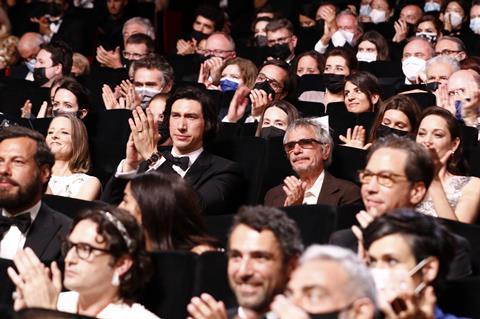 International delegates have expressed unease about the lack of social distancing and masks at jam-packed screenings in the Grand Theatre Lumiere and the Salle Debussy in the Palais and at other festival events. On the streets, the nightly red carpet photo call is also attracting the familiar crush of pavement-blocking celebrity-spotters on the Croisette, with no distancing measures in place.
Attendees at the opening-night ceremony reported entry to the 100% capacity venues was granted with just a ticket. No vaccine status certificate, PCR test result or festival accreditation was required. Once inside, most people removed their masks.
"There's no [social] distancing. I wish there was," said Cate Kane, head of acquisitions of UK-based Mubi who is five months pregnant,of the situation inside screening rooms. "We went to Venice last year - you book your seat, they take you to your seat, they take your temperature all the time. They had people with night-vision goggles coming in and telling people to put the mask even just over your nose. Here, everybody is sitting next to each other. It does make you nervous."
The busy opening-night dinner on Tuesday evening (July 6) at Palm Beach was equally packed, with few of the 550 guests wearing masks or social distancing.
However, the festival press conferences require everyone to keep their masks on at all times unless asking or answering a question.
A festival spokesperson said staff at the Palais had been re-briefed on Wednesday morning on the importance of enforcing mask wearing during screenings. The festival is also creating a new special recording in French and English that will be played at the beginning of each screening, reminding spectators to keep their masks on.
Delegates from countries on France's amber list said they were generally happy to take regular PCR tests at the well-run, on-site facility but their patience with the new online ticketing system was beginning to wane. The website is frequently crashing and tickets are being confirmed too late.
"There is a lot of anxiety already in the air because of the pandemic, so uncertainty around the ticketing process doubles the frustration," said UK producer Mike Goodridge of Good Chaos. "I got confirmed for a ticket to the opening 40 minutes after it had started."
Press delegates also have noted the irony of being asked to turn up to screenings exactly on time, creating the exact queues the new ticketing system was designed to avoid.
Many US attendees are either still en route or have expressed no concerns so far. One said they were holding meetings in hotels and restaurants away from crowds.
French government spokesperson Gabriel Attal announced on Wednesday the cabinet would hold a defence council meeting on Monday (July 12) to discuss how to manage France's expected fourth wave of the pandemic. Topics on the table will include whether to bolster entry restrictions for countries where cases have surged.
"Eleven regions have seen the incident rate rise, with particularly strong epidemic dynamic in PACA [the Provence-Alpes-Côte d'Azur region in which Cannes is situated] and Ile-de-France," he said.