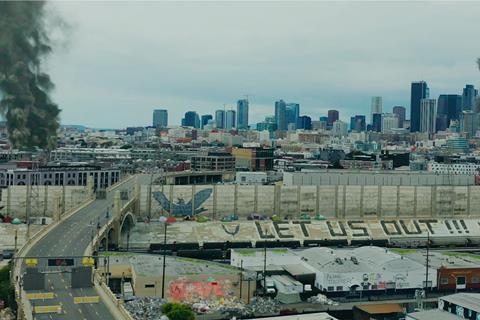 ErosSTX said on Monday (November 16) that pandemic thriller Songbird will get a PVoD launch in the US on December 11 prior to release on a "major streaming service" in 2021.
Adam Mason's film shot in and around Los Angeles last summer under strict Covid-19 protocols. and follows the intertwined lives of people fighting for love at the end of the world.
An all-star cast includes KJ Apa, Sofia Carson, Craig Robinson, Bradley Whitford, Peter Stormare, Alexandra Daddario, Paul Walter Hauser, and Demi Moore.
Mason (Into The Dark), co-wrote the script with Simon Boyes (Misconduct). He told Screen prior to the shoot, "Basically the script was kind of built from the ground up, creatively with all of that very much in mind.
"The themes of the script are about isolation and separation and loneliness. One thing that came very quickly apparent to me was that more than ever we were using our cell phones and devices to communicate through the barriers of the lockdown, so that very much fed into the narrative."
Mason continued, "The themes of the movie kind of match our own angst as to what's going on at the moment. So it was like a really good marriage. So instead of trying to retrofit an existing project into a Covid world, we started from scratch."
Michael Bay produced Songbird via Platinum Dunes, alongside Invisible Narratives' Adam Goodman, Andrew Sugerman and Eben Davidson, and Catchlight Studios' Jeanette Volturno, Jason Clark, and Marcei Brown.
ErosSTX announced last month it was bypassing a US theatrical release on Gerard Butler thriller Greenland and had set a fouth quarter PVoD release prior to HBO Max.