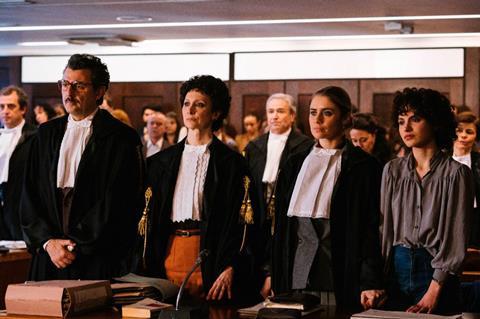 US streaming platform Paramount+ has unveiled a seven-strong film and series international slate ahead of its launch in the UK and Ireland later this week (June 22).
The originals will be produced in partnership with VIS, Paramount's international studio. Paramount+ is aiming to commission 150 international originals by 2025.
New projects are Mexican suspense thriller film One Must Die, about seven people who are kidnapped and suddenly find themselves part of a deadly game. It Is directed by and stars Colombian actor Manolo Cardona, with Spanish actress Maribel Verdú also starring. It is produced by VIS in association with 11:11 Films.
Another Mexican title is Sinaloa's First Lady, starring and produced by John Leguizamo, with Frida Torresblanco also producing. The series will chronicle the life of Mexican drug lord El Chapo's beauty queen bride, Emma Coronel, from innocent farm girl to formidable crime wife. The series has been greenlit for development. It is produced by VIS in association with Braven Films.
From Germany, titles in the works are drama A Thin Line, about young 'hacktivist' twin sisters, played by Saskia Rosendahl and Hanna Hilsdorf, who are committed to exposing environmental wrongdoing, but are led in opposite directions after their hack into a government server leads to a police raid. It's produced by Weydemann Bros. Serial Drama in association with VIS.
Another German offering is The Sheikh, which is inspired by true events, and tells the story of con artist. Björn Meyer plays a village idiot who reinvents himself as the heir of an Arabic fortune. The comedy series is created and written Dani Levy, who directs alongside Johannes Nabe,and stars Petra Schmidt-Schaller, Sylvester Groth, Carol Schuler, Philippe Graber and Pasquale Aleardi. It is produced by X Filme Creative Pool and VIS.
From France comes young adult fantasy horror thriller series Mask: Marie Antoinette Serial Killer, based on the novel Marie Antoinette Serial Killer by author Katie Alender. Four young US girls on spring break in Paris get caught up in a mysterious murder spree. It is currently in advanced development and is produced by Cottonwood Media and VIS.
Circeo tells the story of the aftermath of the crime known as the Circeo massacre, that took place in 1970s Italy, after two teenage girls were found in the trunk of a car in Rome, naked, wrapped in blankets and drenched in blood. The Italian series is written by Flaminia Gressi, Viola Rispoli and Lisa Nur Sultan and directed by Andrea Molaioli. Produced by Cattleya in partnership with VIS for Paramount+ and Rai in Italy.
Additionally, Murder Of God's Banker is a four-part docuseries that recounts the murder of Italian fugitive banker Roberto Calvi, whose body was found hanging off a London bridge. He had presided over the collapse of a major Italian bank whose largest shareholder was the Vatican. It is produced by New York-based CreativeChaos vmg in association with VIS,
Paramount+'s previously announced international originals include Sexy Beast (UK), A Gentleman In Moscow (UK), The Chemistry Of Death (Germany), Los Enviados (The Envoys) (Mexico), Cecilia (Mexico), Bosé (Spain), Fallaci (Italy), At Midnight (Mexico), The Signal (France) and Impact (France).
Casting details for The Chemistry Of Death have also been revealed. The psychological crime series based on Simon Beckett's bestselling novels will star Harry Treadaway as forensic anthropologist Dr. David Hunter, alongside Katie Leung, Jeanne Goursaud, Nick Blood, Amy Nuttall, David Hayman and Hardy Krüger Jr. Shooting of the six-episode series began mid-May and is taking place in Scotland and Norfolk.
Paramount+ is also set to land in Italy, September, Germany, Switzerland, Austria and France in December.