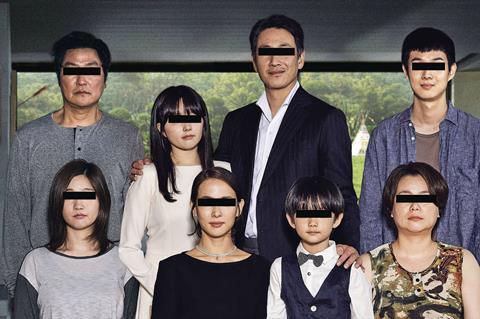 Curzon and Studiocanal are adding hundreds of screens to the UK release of Parasite following a surge in demand after its Oscar win.
Bong Joon Ho's drama will expand from 136 sites to 430 on Friday (February 14) after scooping four Academy Awards including best picture, which made it the first non-English language film to win the top prize.
The South Korean film has taken £1.39m since its release in the UK last week, already making it one of the most successful subtitled films to ever be distributed in British cinemas.
But interest has spiked in the wake of Bafta and Oscar wins, with the distributors moving fast to meet demand.
Even before the win on Sunday night, Curzon CEO Philip Knatchbull said on Twitter that he was looking to expand screenings to 275 cinemas, following messages from across the country requesting it be screened at local multiplexes.
However, after beating frontrunner 1917 to best picture, the distributors met today (Feb 10) and decided to expand to 430 sites.
Knatchbull said: "Last night's Oscar result is truly historic… To be opening Parasite in the UK in the midst of all this excitement is a dream for any distributor. The weekend box office broke records for subtitled film and individual records at Curzon venues and with our partner cinemas. With the film expanding this weekend to around 400 cinemas, we hope the film will be embraced even further by audiences in the UK and Ireland."
The theatrical release is being handled by Studiocanal on behalf of Curzon - an arrangement usually struck in order for a film to access pay-TV or streaming deals the other distributor may have in place.
The film was acquired by Curzon on the day of its world premiere at the Cannes Film Festival last May – a deal announced exclusively by Screen – and went on to win the Palme d'Or.
Curzon announced in October that it would give Parasite the full 16-week theatrical window in the UK, in a break from its usual model of day-and-date releasing via Curzon Home Cinema. It is the first time Curzon has done this since The Handmaiden in April 2017.