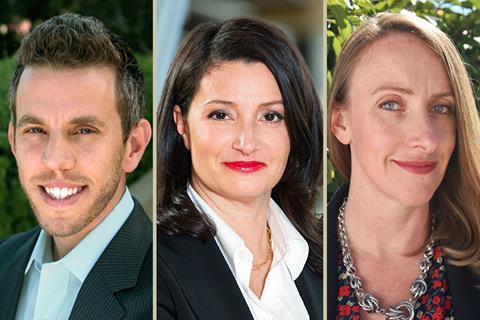 Participant Media, on a roll with 17 Oscar nominations earlier this week for ROMA, Green Book and RBG, has promoted Christina Kounelias to president of worldwide marketing, Krista Wegener to executive vice-president, and Gabriel Brakin to COO.
All three executives will continue to report to Participant CEO David Linde.
Brakin previously served as general counsel and executive vice president of business affairs and will oversee company-wide business operations, deal-making, and corporate and legal affairs. He will also coordinate Participant's long-term strategy as it relates to the overall mission of championing entertainment that engages and inspires audiences toward positive social action.
Both Wegener and Kounelias will continue to work across departments in managing efforts related to their respective divisions. Kounelias will also oversee efforts in the company's brand management and development. Wegener will continue to lead Sales and distribution for Participant as executive vice-president.
Linde said, "I am thrilled by this well-deserved, long-overdue recognition of the hard work and dedication shown by this incredibly talented trio. Gabe's experience and growth with the company has resulted in some of our most important successes, and he will continue to be an incomparable asset as we look to new and exciting ways to expand our social impact work.
"Christina, meanwhile, has proven time and again her value and expertise in progressing what this company can accomplish, as well as her work with our various partners to help leverage our brand and content with a worldwide audience. And with her broad network of top-tier contacts in global sales and distribution, Krista will continue to be an even more instrumental component to the growth and success of the company."
ROMA is the joint leader at the Oscar race with 10 nods, while PGA winner Green Book earned five, and the documentary RBG picked up two.