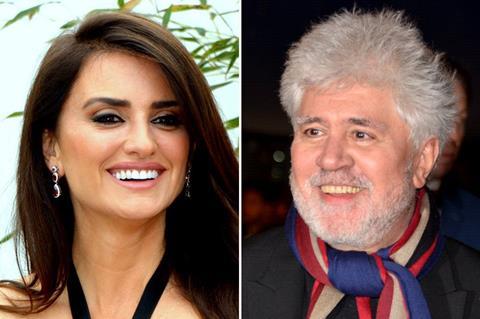 Pedro Almodóvar has written a screenplay for a new feature during lockdown, with Penélope Cruz set to star.
The Spanish director told Spanish news agency Efe that the title is Madres paralelas (loosely translatable as Parallel or Twin Mothers) with preproduction starting in autumn and shooting scheduled for early 2021. The story takes place in Madrid, with Agustín Almodóvar and Esther García producing through their El Deseo banner.
The story focuses on "the life of two women who give birth on the same day and have parallel lives, hence the title".
Almodóvar wrote the Spanish-language script, with Cruz in mind for the lead role, whilst he was ill with the coronavirus. Cruz has not officially signed on for the project according to reports, but has seen the script. "This means I'll be able to work with my dear friend again," said Almodóvar. Cruz previously worked with the director on All About My Mother, Volver and his latest feature, Pain & Glory.
Motherhood, a recurrent theme in his filmography, will be approached this time from the perspective of "mothers who are bringing up their babies in the first stages of their lives, the first and second years of their children."
Almodóvar's next feature project was supposed to be an adaptation of the Lucia Berlin's short stories A Manual For Cleaning Women, but because of the complex nature of the production, with different locations in the US, it is currently on hiatus.
His next project is a short film adaptation of Jean Cocteau's The Human Voice starring Tilda Swinton, with shooting set to start in two weeks. It will be Almodóvar's first shoot in English. Commenting on the effect of the Covid-19 pandemic on the film industry the director says: "We'll slowly get back to normal. Several films and series won't be made but I'm optimistic and I'll try to lead by example by going to the cinema at the weekend".