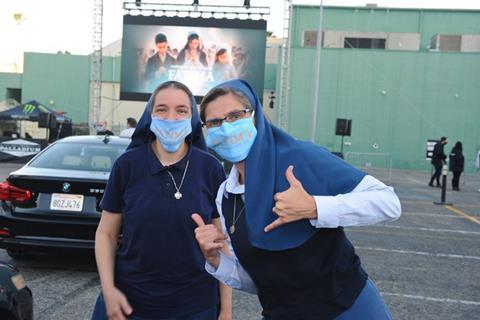 Picturehouse has set an August 28 theatrical and PVOD launch for faith-based drama Fatima and has been partnering on a pop-up drive-in US tour.
The film has been the focus of a pop-up tour in metro centres organised with events group A-List Communications that has staged July screenings at this year's Super Bowl venue at the Hard Rock Stadium in Miami, Simi Valley, California attended by Picturehouse's Bob and Jeanne Berney, and a private event with the Hamptons Film Festival's summer drive-in initiative.
Upcoming tour screenings include Soldiers' Field in Chicago on July 28, followed by dates in parking lots of church partners in Atlanta, Boston, New Orleans and others to be announced before the film's cinematic release starting on August 14.
Marco Pontecorvo directed Fatima, which stars Alba Bapstista, Joaquim de Almeida, Harvey Keitel, Sônia Braga, and Goran Visnjic.
The drama centres on a 10-year old shepherd and her cousins who incense the Catholic church and the Portuguese government when thousands of pilgrims flock to the site where they claim to have seen visions of the Virgin Mary.
James T. Volk, Dick Lyles, Stefano Buono, Maribel Lopera Sierra, Marco Pontecorvo, Rose Ganguzza, and Natasha Howes serve as producers, and the executive producers on Fatima include Marco Valerio Pugini, Holly Carney, David Fischer, Frida Torresblanco, and Matthew J. Malek.
Myriad Pictures handles international sales on Fatima.