Animation studio behind Toy Story and Monsters University answers appeal from veteran director for editing supplies.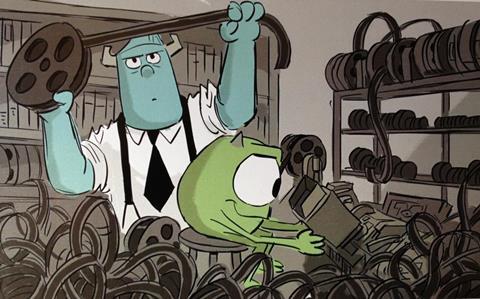 Pixar, the Disney-owned animation studio best known for its cutting edge digital filmmaking, has answered an appeal from British director Ken Loach for "old school" editing supplies.
Loach put a call out through ScreenDaily last week to find a batch of film numbering tape, essential to help finish editing his next and possibly last narrative feature, Jimmy's Hall.
The tape is needed to identify the sound and picture when cutting physical film stock and since Loach is likely the last feature director to have resisted the move to digital, supplies were due to run out at the end of this week.
After the story was published, Steve Bloom, an editor at Pixar in California jumped at the chance to help. Apparently, each editor at the animation studio, famous for films such as Toy Story, Finding Nemo and Up, has their favourite Loach film.
Not only did they send the studio's entire stock of numbering tape – comprising 19 rolls of white tape and two rolls of yellow – but it arrived at the cutting room on Monday morning with a specially drawn picture of Monsters Inc. characters Mike and Sully surrounded by rolls of film in an editing room.
A total of nine Pixar editors signed the back of the picture with the message: "To Ken Loach and crew. Good luck from the editors at Pixar!"
Bloom was the editor on several Pixar shorts including Oscar-nominated Boundin' and La Luna, and was second film editor on this summer's sequel Monsters University.
Loach said: "We were delighted to know that Pixar is still in love with the same technology as us. We hope to get to meet them along the way. We've had a tinful of tape from a few other friends as well and we're very grateful."
Loach's production company, Sixteen Films, sent Pixar a matching picture of the director perusing celluloid, editor Jonathan Morris approving the quality of the white tape, and assistant editor Paul Clegg holding up a roll of film.
Jimmy's Hall, written by Loach regular Paul Laverty, was shot in August in counties Leitrim and Sligo, Ireland.
Set in 1932, the film follows Irish communist leader James Gralton who returns from a decade in New York to re-open the dance hall he built in 1921. The film will "celebrate the spirit of the free thinkers who went to learn, argue, dream and have fun" in the dance hall.
It is a Sixteen Films, Element Pictures, Why Not Productions and Wild Bunch production made with support of the BFI, Film4, Bord Scannán na hÉireann/Irish Film Board.
A fine cut of the film is expected to be completed by the beginning of February.
UPDATE: Loach's producer Rebecca O'Brien, of Sixteen Films, sent through the following statement: "An editor called Mary Finlay just popped round with five more rolls – our search is complete!"
Finlay is a film and TV editor with credits including DCI Banks, Without You and The No. 1 Ladies' Detectives Agency.