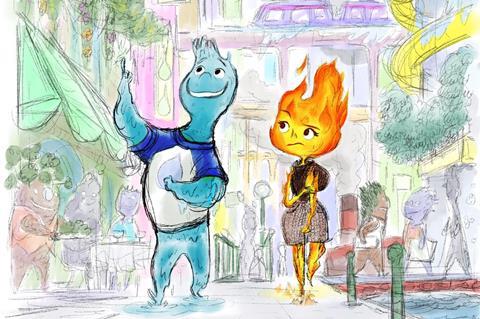 Pixar Animation Studios has revealed that its twenty-seventh feature film will be Elemental, directed by company veteran Peter Sohn and set for a June 16, 2023 release.
The company also released a piece of concept art for the project, set in a city where residents made of one of the four elements – fire, water, land and air – live together. According to a statement, the story, inspired by Sohn's New York childhood, will follow a "fiery young woman" called Ember and a "go-with-the-flow guy" named Wade as they "discover something elemental: how much they actually have in common."
Sohn previously directed and got a story credit on Pixar's 2015 feature The Good Dinosaur. He was a story artist on Finding Nemo, a member of the senior creative teams for Coco and Toy Story 4 and an executive producer on Luca. He provides one of the voices for Pixar's Lightyear, due for release on June 17.
He has previously been linked as director to a Pixar animated project about the Barcelona football team.
Denise Ream, who produced The Good Dinosaur and has worked as a visual effects producer on a number of live action features, is producing Elemental.
Talking about the film's background Sohn said: "My parents emigrated from Korea in the early 1970s and built a bustling grocery store in the Bronx. We were among many families who ventured to a new land with hopes and dreams—all of us mixing into one big salad bowl of cultures, languages and beautiful little neighborhoods. That's what led me to Elemental. Our story is based on the classic elements - fire, water, land and air. Some elements mix with each other, and some don't. What if these elements were alive?"