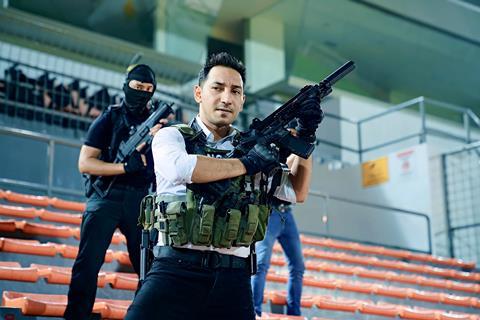 Syafig Yusof's action thriller Polis Evo 3 has stormed the Malaysian box office with the biggest opening weekend for a local film since the Covid-19 pandemic, breaking records set last year by Mat Kilau.
The Malay-language film took $3.47m (RM16m) from its first four days including previews, surpassing last year's historical action epic Mat Kilau, which grossed $2.65m (RM12.2m) from its four-day opening weekend in June 2022 and went on to become Malaysia's highest grossing local film with a total of $21.6m (nearly RM100m).
Polis Evo 3 is mainly financed by Astro Shaw along with Skop Productions and TGV Pictures. According to Astro Shaw, it topped the box office on May 24 when it grossed $282,000 (RM1.3m) from sneak previews, dethroning Hollywood blockbuster Fast X, which opened the previous week. It continued to top the box office during its opening weekend, taking $456,000 (RM2.1m) on opening day (May 25).
The release coincides with Malaysia's school holidays. To promote the film, a star tour is being rolled out nationwide, which started on the east coast last week in the state of Terengganu and Pahang, followed by Kedah, Penang and Perak in the north this weekend and by Johor and Melaka in the south as well as neighbouring country Singapore the week after.
The film reunites actors Zizan Razak and Shaheizy Sam as buddy cops whose partnership is tested when one becomes the next target in a series of bombings. New to the franchise are Sharnaaz Ahmad, Syafiq Kyle, Farali Khan and Douglas Lim.
Polis Evo 2 co-directors Joel Soh and Andrew Chiew serve as producers. Executive producer is Raja Jastina Raja Arshad, vice president of Malay Nusantara Business and head of Astro Shaw.
The first Polis Evo was the first local film to cross $3.9m (RM18m) at the local box office following its release in 2015, while 2018's Polis Evo 2 took $5m (RM23m).
Director Syafig is a brother of Syamsul Yusof, director of Mat Kilau.