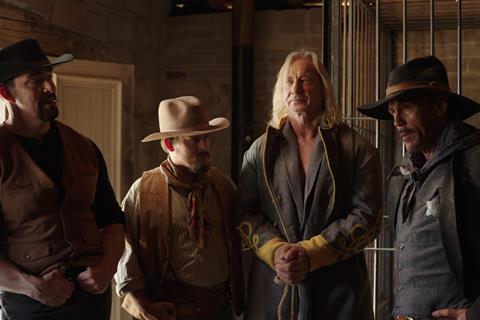 Premiere Entertainment Group has bulked up its Cannes sales slate with worldwide rights to action western Gunfight At Rio Bravo starring Alexander Nevsky
Joe Cornet directed the film from Craig Hamann's screenplay in which Nevsky (Showdown In Manila, Black Rose) plays a mysterious Russian gunslinger who aids a marshal and a sheriff as they stand up to a bloodthirsty outlaw gang known as The Hellhounds who have invaded their small East Texas town.
Cornet, Matthias Hues, Olivier Gruner, and Anna Oris round out the key cast. The film was produced by Nevsky for Hollywood Storm. ETA Films' Eric Brenner and San Rafael Productions' Joe Cornet served as executive producers.
Premiere Entertainment Group CEO and president Elias Axume brokered the deal with Nevsky.
The sales roster includes There Are No Saints written by Paul Schrader and starring Paz Vega, Ron Perlman, and Tim Roth, and No Future with Catherine Keener, Charlie Heaton, and Rosa Salazar. The company will also be shopping its Cam Gigandet trio of original productions comprising Shrapnel with Jason Patric, Black Warrant with Tom Berenger, and Blowback starring Randy Couture.