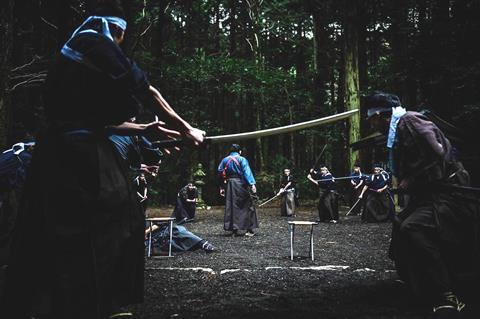 US sales firm Princ Films has picked up Yuji Shimomura's martial arts action film Crazy Samurai Musashi for international sales, which it is launching at this week's Toronto Film Festival.
Shimomura's third feature debuted at Barcelona's Asian Summer Film Festival in July, before a North American premiere at Fantasia Film Festival last month.
Well Go USA has acquired rights for the US and Canada, with My Theater DD releasing the film in Japan.
It features a 77-minute single-shot action sequence, which represents 85% of the film's 91-minute runtime.
Tak Sakaguchi stars as Miyamoto Musashi, a legendary swordsman who sets out to defeat 400 enemies from the Yoshioka clan. Kento Yamazaki, Yosuke Saito, Ben Hiura and Arata Yamanaka are alongside him on the cast.
Acclaimed Japanese filmmaker Sion Sono wrote the concept for the film, with Atsuki Tomori writing the script. Shinichi Fujita produced the title, with Takayuki Ota as executive producer.
"It took us seven years to complete the film as after the 77-minute one-shot scene was initially filmed, Tak had broken fingers, ribs, and teeth, and couldn't even grip the sword anymore," Ota said. "After buying the rights, we worked on the opening and ending."
The Musashi character, based on a 17th-century swordsman, was previously played by legendary Japanese actor Toshiro Mifune in Hiroshi Inagaki's 1950s Samurai trilogy.