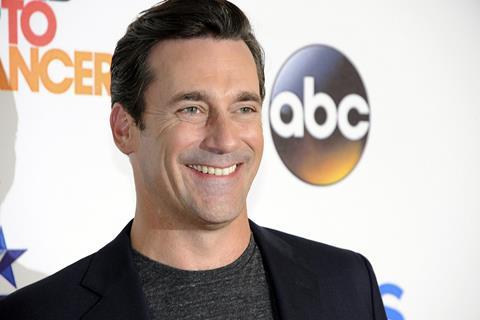 Protagonist Pictures has boarded supernatural thriller Off Season, which is set to star Jon Hamm.
Protagonist is handling international sales with US sales co-represented by CAA and Protagonist.
Writer/director Jonathan van Tulleken will make his feature directorial debut, after being Bafta nominated for his short of the same name. The former Screen International Star of Tomorrow has also worked on TV's Misfits and Top Boy.
Nira Park of Big Talk (which worked with Hamm recently on Baby Driver) produces alongside J Miles Dale of Demilo Production (The Shape Of Water).
The film is currently in pre-production, slated to begin principal photography in Canada in early 2018.
Set in the harsh Canadian tundra, a man goes in search of his elderly father who mysteriously disappeared. His search exposes shocking family secrets long buried but not forgotten by vengeful forces at work.
"I've been thinking obsessively about taking this material to the big screen for several years. It's a story and world that I feel like I have lived and breathed," said van Tulleken.
"I never imagined I'd have the opportunity to do this with such a highly esteemed team around me. Nira Park and Miles Dale are two of the most gifted and respected producers working in film, and on top of that, to have Jon Hamm in the lead role is the kind of good fortune few first time filmmakers are afforded. I cannot wait to see him bring his immense talent to the role of Tenn."
Producer Nira Park stated, "There is something really special about this project. Jonathan's unique tonal approach to genre captivated me from the moment I first saw his short film. I couldn't be happier to be working with him on such a compelling piece of material. To be doing so with such a great team of previous collaborators, the brilliant Miles Dale and incomparable Jon Hamm, is incredibly exciting."
Protagonist CEO Dave Bishop added, "We're thrilled to be working with Nira and Miles on the spine chilling Off Season. We're huge fans of Jonathan van Tulleken's award winning short and leapt at the chance to work with this super experienced team on the feature adaptation. We can't wait to discuss this captivating super natural thriller with buyers at the American Film Market."