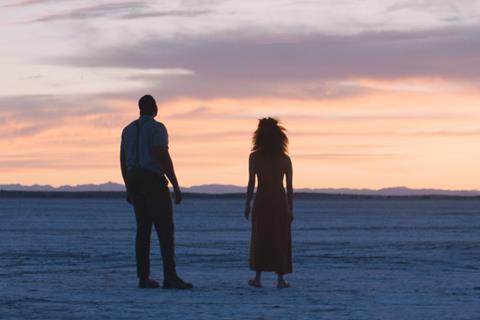 Protagonist Pictures has taken international sales rights to metaphysical drama Nine Days and will launch sales at the EFM in Berlin this week.
The film stars Winston Duke (Us) as a reclusive man in a distant reality who interviews prospective human souls for the privilege to be born. The cast also includes Zazie Beetz, Benedict Wong, Bill Skarsgard and Tony Hale.
It marks the feature debut of Edson Oda, a Japanese Brazilian writer-director based in Los Angeles.
The film received its world premiere in the US Dramatic Competition stand at Sundance last month, where Oda won the Waldo Salt Screenwriting Award.
30WEST and CAA Media Finance are handling North American rights.
Nine Days is a co-production between Juniper Productions, Mandalay Pictures, Nowhere, MACRO Media, The Space Program, in association with Mansa Productions, Oak Street Pictures, 30WEST, Baked Studios and Datari Turner Productions.
The project is produced by Jason Michael Berman for Mandalay Pictures; Mette-Marie Kongsved and Laura Tunstall of Nowhere; Matthew Linder of Juniper Productions; and Datari Turner.
London-based sales company Protagonist will also be heading to the EFM with Mariano Cohn and Gastón Duprat's Official Competition starring Penelope Cruz and Antonio Banderas, and Sundance titles Surge, directed by Screen Star of Tomorrow Aneil Karia, and Harvey Weinstein-inspired drama The Assistant, from US director Kitty Green. It will also be bringing Edward Hall's Blithe Spirit, a reimagining of Noel Coward's classic comedy starring Judi Dench, Dan Stevens and Isla Fisher.