Upcoming US composer receives Golden Eye award from Hans Zimmer.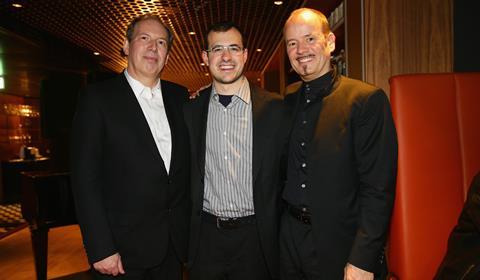 US composer Leeran Z. Raphaely has won the third International Music Film Competition at the Zurich Film Festival (Sept 25 - Oct 5).
Raphaely received the Golden Eye Award at Zurich's Tonhalle last night (Oct 1), which includes a cash prize of CHF10,000 ($10,500).
The jury chose the winner from finalists that also included Matteo Pagamici (Switzerland), Richard Ruzicka (Germany), Dominik Giesriegl (Austria), and the duo Lidia Kalendareva and Alin Cristian Oprea (Germany/Russia/Rumania).
The five finalists were chosen in an initial round from 231 scores by composers from more than 40 countries.
The competition required entrants to compose a score for symphony orchestra for the six-minute short film Maximall by Axel Tillement, Axelle Cheriet, Hadrien Ledieu and Nawel Rahal.
The five best scores as chosen by a jury of experts were world premiered in the evening at the Tonhalle Zürich under the baton of Frank Strobel.
The jury included music composers Marcel Barsotti and Guy Farley, directors Bettina Oberli, conductor Strobel and Maximall co-director Tillement.
An Evening Dedicated to Hans Zimmer
This year's film music concert revolved around Oscar-winning German composer Hans Zimmer, who received the 10th Zurich Film Festival's Lifetime Achievement Award.
The programme included the performance of excerpts from scores for such films as The Lion King, Driving Miss Daisy, Gladiator and Sherlock Holmes by the Tonhall-Orchester Zürich.
German-born Zimmer has composed music for more than 100 films, won an Academy Award, two Golden Globes, three Grammys an American Music Award and A Tony Award.