Young juries in 17 European cities select Dutch film by Dave Schram.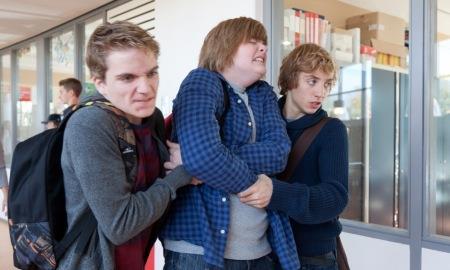 School bullying drama Regret! (Spijt!), from Dutch director Dave Schram, has won the European Film Academy Young Audience Award 2014.
The film was selected by more than 1,000 children aged 12-14 in cities ranging from Barcelona and Bratislava to London and Tel Aviv.
Having watched the three nominated films on Young Audience Film Day, the young cinema-lovers had the opportunity to discuss the films before electing their favourite. The results were then reported live via video conference to Erfurt (Germany) where Polish actor Maciej Stuhr moderated the awards ceremony transmitted online as a live stream.
Young speakers from the German jury presented the award to Schram who thanked the audience and expressed his hope that the film may help to do something to combat bullying.
Now in its third year, this special initiative includes a network of nine partners: BFI British Film Institute, Centre for Educational Resources (Denmark), DokuFest (Kosovo), EducaTIFF (Romania), Film Center Serbia, Filmoteca de Catalunya (Spain), Georgian National Film Center, German Children's Media Foundation GOLDEN SPARROW, Hungarian National Film Fund, Maltese Ministry for Tourism (Culture Directorate), National Film Centre of Latvia, New Horizons Association (Poland), Otok - Institute for the Development of Film Culture (Slovenia), Sofia International Film Festival (Bulgaria), Swedish Film Institute, Tel Aviv Cinematheque (Israel) and Visegrad Film Forum (Slovakia).