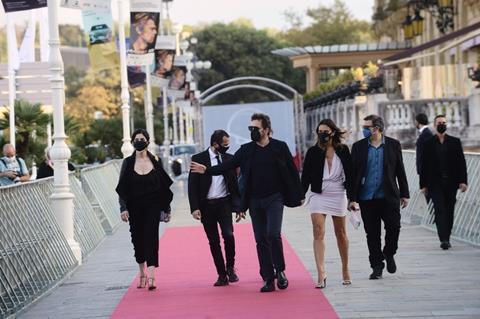 Hot on the heels of the Venice film festival, the San Sebastián Film Festival has safely pulled off (fingers crossed) the second major film event held during a global coronavirus pandemic. International film stars (most based in Europe) including Johnny Depp, Matt Dillon and Viggo Mortensen made the journey to the Basque town and enjoyed the festival and industry activities in a socially distanced way.
Seating arrangements in theatres involved alternate empty seats and a strict pre-booking system. Disinfectant gel dispensers were at the entrance and exit of all venues and the festival enforced the compulsory use of face masks in its venues and on the streets of the town. French director Eugène Greene had his invitation and accreditation revoked after he repeatedly refused to wear a face mask at the screening of his film Atarrabi Et Mikelats, which was programmed in the Basque section Zinemira.
There is a sense of relief -and joy- that films have been seen, deals have been made and filmmakers have been able to talk about their work not lockdown. Even if , as in case of competition directors Thomas Vinterberg and Naomi Kawase, this was via online press conferences and interviews. This was arguably more of a challenge than Venice: unlike the relatively contained area of the Venice Lido, San Sebastian is a festival that sprawls into the city. No temperature checks were undertaken for instance.
"This has been a very different festival to what we are used but we are so lucky it could take place," said producer and distributor Álex Lafuente of Madrid-based BTeam Pictures, "We have been able to show the films, which is what's important, what remains. I have had some meetings and the online ones we'll have later on. There's not much point in rushing to have a meeting online when we can do it from the office in Madrid. We have focused on the people who were actually here."
BTeam has had several films screening at the festival: Two in the Pearls section (Maite Alberdi's The Mole Agent and Susanna Nicchiarelli's Miss Marx), Vinterberg's title in competition Another Round as well as Fernando Trueba's closing film (Forgotten We'll Be) and Las Niñas in Made in Spain.
If new business has been slow, that is distributors being pragmatic, he believed. "We are all waiting to see what happens in the coming months and how that impacts theatrical exhibition before acquiring new titles."
French producer Guillaume De Seille of Arizona Films has been in town with Adilkhan Yerzhanov's France-Kazakhstan co-production Yellow Cat, screening in the Zabaltegi Tabakalera section.
He has also participated in WIP Europa, the festival's work- in- progress support initiative for European films in post-production with Selman Nacar's debut feature Between Two Dawns. It was selected as one of five projects showcased to international festival programmers, sales agents, distributors and producers.
"Being able to attend this work in progress was great, even if there fewer industry professionals," said De Seille. "I know that for a lot of sales agents, programmers and distributors it was a pleasure to see on a big screen the films we are working on. That gave us a renewed hope in cinema. We were all quite moved."
Also taking part in WIP Europa was Marián Fernández Pascal of te Basque Country- based Txintxua Films, who is producing the experimental film 918 Nights by first- time director Arantza Santesteban. "Being able to attend the festival has been very useful for those of us with projects in different stages of development," she said. "The online industry activities, which we already experienced at the virtual Cannes Film Market, have allowed to keep the contacts going, maybe not with the strength and momentum we had seen them achieve in the last few years, but alive and well nevertheless."
"I have never once felt uneasy about the safety measures," she added. "They have been effective and carried out with ease. I think we are all getting used to it."