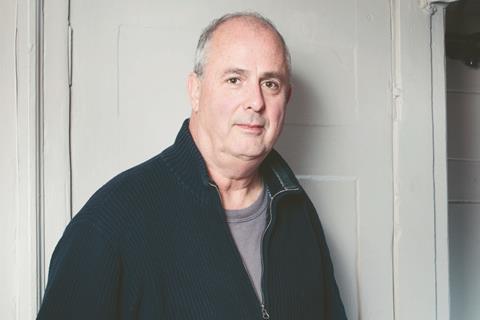 Friends and collaborators in the international film industry reacted with shock and sadness to the sudden death of UK director Roger Michell, who died on Wednesday at the age of 65.
"It is a shock. He was my oldest professional friend," said UK producer Kevin Loader, who produced six of Michell's feature films including 2004's Enduring Love, 2012's Hyde Park on Hudson and 2013's Le Week-end, through the duo's London-based Free Range Films, founded in 1996. "I'd known him for over 30 years. We spoke several times a week even when we weren't working together. It feels like there is a big gap."
Loader said Michell had been finishing the final mix of Elizabeth, a feature documentary about Queen Elizabeth II, the day before he died – "working creatively right up until the end."
The pair first worked together in 1991 on BBC miniseries The Buddha Of Suburbia – directed by Michell, produced by Loader and written by another frequent collaborator, Hanif Kureishi, who went on to write 2006 feature Venus and Le Week-end – "wonderful expressions of what Roger did," Loader said. The producer hopes for Elizabeth to have a theatrical release early in the new year, once final technical work is complete.
"From a producer's point of view, he was a very straightforward director to work with," said Loader of Michell's on-set methods. "He was very prepared; he knew exactly what he wanted and was very decisive about it but not in a 'major general' kind of way.
"I would ask him if he liked this or that and he would say, 'Neither, bring me something better.' Everyone who worked on a production with him appreciated that clarity. There was a glorious sense of everybody pointing in the same direction when you worked with him. After he'd done his initial thinking about what he was doing, it was a joyful process."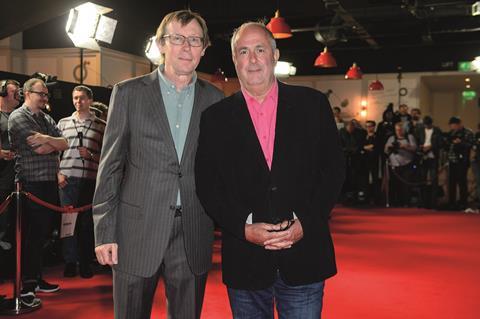 The pair were in early development for an adaptation of Melanie Golding's 2019 novel Little Darlings, which they optioned prior to publication in 2018. "[Roger] was a good screenwriter," Loader added. "When he worked in the theatre he liked to direct new plays rather than classics as he liked to work with writers, to find the best version of their idea. It was a very collaborative screenwriting process. It felt like a real partnership for him."
"Deep empathy, intellectual ambition"
"The news of Roger's death is a terrible shock and I am so sad, especially for his beloved children and family," said Tessa Ross, who ran Film4 from 2002 to 2014, backing Michell's Enduring Love, Venus and Hyde Park On Hudson. "Roger was wonderful - I loved him and loved working with him, and I had the pleasure and privilege of doing so a number of times. He made everything seem easy. He was a man with deep empathy and huge intellectual ambition, both of which he carried with a warm, light touch.
"He was a deeply creative director who brought himself completely to the table whilst being a great enabler and protector to his collaborators," continued Ross. "He was extraordinarily gifted - with actors and writers, in film and in theatre. He was rigorous, questioning, kind and wise."
Ross said she had recently introduced Michell to writer Anna Hope, and that "he was excited by her voice and one of her first screenplays." Michell then spent time during the lockdown working with her.
"I just keep thinking of the particular tone of his voice, and his utter kindness, and how he companioned me for a year in processing grief into shape and words with rigour and exactitude," said Hope in response to Michell's death. "What a lovely man."
"We had a blast"
Nicky Bentham, producer at the UK's Neon Films, worked with Michell for the first time on The Duke, which premiered out of competition at the Venice Film Festival in 2020.
"I only met Roger a few years ago when we started working together on The Duke," said Bentham. "I had no idea what an immense impact he would have on me, personally and professionally, in that short time. We had so much fun making the film and that was mostly due to the incredible collaborative atmosphere that Roger creates and the wonderful, loyal team that line up to experience it with him."
Michell and Bentham recently attended Telluride Film Festival earlier this month for the film's North American premiere; Bentham has fond memories of her time in Colorado with the director.
"It was his fifth time at the festival and my first – so he insisted on showing me the best of it by taking me cycling along the river and into the mountains," she recalled. "We had a blast. And everywhere we went filmmakers and film lovers would approach him with such warmth and reverence, but he remained humble."
The Duke is scheduled for release in UK and Ireland cinemas on February 25 through Pathe UK. Based on a true story, it is a comedy-drama about a 60-year-old taxi driver who steals Goya's portrait of the Duke of Wellington from London's National Gallery, in protest at the lack of government care for the elderly.
"Roger was enormously proud of The Duke and so excited to share it with audiences," said Bentham. "It's particularly tough that due to Covid delays he didn't get to see it released in the cinema and hear the audiences' laughter one last time.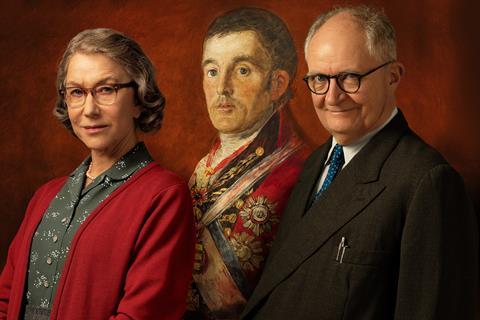 "Apart from being a genius director and a very generous collaborator, he was such good company," she continued. "He was so knowledgeable and curious, with a whip-smart wit. I'll miss his cheeky grin. I miss it already."
"Daring and bold"
Cypriot cinematographer Haris Zambarloukos started his career working with Michell, with the director hiring Zambarloukos to shoot Enduring Love when the cinematographer had only three shorts credits to his name. They then worked together on Venus, before Zambarloukos went on to a successful career as director of photography on studio titles including Mamma Mia!, Thor, Cinderella and the upcoming Murder On The Orient Express, as well as Kenneth Branagh's Belfast.
"It changed my career path and I am forever indebted to his generosity of spirit and trust," said Zambarloukos.
"I was deeply saddened to hear of Roger's departure, my thoughts are with his children and family. He was a beautiful man who made beautiful films about the human condition. He was daring and bold and unafraid to go deep, and to tackle the taboo and the stories untold. He made a profound impact on life and I feel privileged to have worked with him and to call him my friend.
"What people might not know about Roger is his kindness, his thoughtfulness, his modesty and his abundant affection for his crew, from his oldest and dearest collaborators to the youngest and newest intern, he treated everyone with respect," continued Zambarloukos. "Roger left us too soon. I wish I got to tell him how much he meant to me and so many of us in the film industry. I miss him already. Adios maestro."
"What British filmmakers aspire to"
Michell made features in both the US and UK, with several supported by Film4 including Enduring Love, Venus and Le Week-end.
Daniel Battsek joined Film4 as director after the last of those, but had already worked with Michell when Battsek was president of Miramax Films. "Venus was one of the first films that I greenlit during my time at Miramax," said Battsek. "That was an incredibly memorable experience working with him and Kevin. I was able to see just what an incredibly sensitive and intelligent director he was – and so amazing with actors.
"He was incredibly forthright and sure of his vision; but had a really wonderful way of ensuring that he got his way without you feeling like you were not getting yours as a result.
"He was able to work with actors, whether they were just learning their trade or incredibly experienced," he continued. "You couldn't be more experienced than Peter O'Toole on Venus, but also with Jodie Whittaker on that film. His ability to both support a new talent, as well as being incredibly respectful of more established talent is a great skill."
Michell worked in the studio system with Paramount Pictures on 2002's Changing Lanes starring Ben Affleck and Samuel L. Jackson, and 2010's Morning Glory starring Rachel McAdams. His versatility made him an aspirational figure for upcoming UK filmmakers, the Film4 boss believed.
"He represents the very best of what a British film director brings to a project," Battsek said. "His body of work represents exactly what many British filmmakers aspire to, which is being able to support British filmmaking, as well as being an ambassador, and a pioneer working on American film in Hollywood or in the US."
Battsek's memories of Michell are of an engaging cinephile who was fun to be around, noting "his ability to find lightness and humour, even in quite serious subject matter.
"I just always enjoyed talking about films and projects with him – he always had a real twinkle in his eye."
"Encouraging and supportive"
Among Michell's best-known films is 1999 romantic comedy Notting Hill, for which he was nominated for best British film at the Baftas. Written by Richard Curtis, the film was produced by Working Title Films.
"Roger's passing is a great loss to the British film industry," said Working Title co-chairman Tim Bevan. "He directed one of Working Title's flagship movies, Notting Hill and for this we will always be grateful. Roger was unique in the range of his interests for movie making. A kind man, particularly with younger filmmakers, encouraging and supportive, he will be sadly missed by us all."