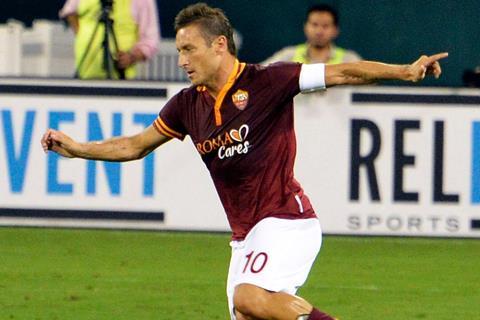 Rome Film Fest brass are targeting a physical event that will include Cannes 2020 label films, a tribute to the late Ennio Morricone, and a film about Italian football superstar and local legend Francesco Totti.
Festival director Antonio Monda said on Friday (July 17) that Cannes head Thierry Fremaux will be in Rome accompanying Cannes selections (and to speak on the evolution of festivals in the Close Encounters section).
While the hope is that talent will also attend the event, set to run from October 15-25, uncertainty surrounds whether or not talent travelling from the US will be able to attend given the rising pandemic crisis in that country and possible quaratine requirements upon arrival.
Monda unveiled two titles that will premiere: Gabriel Range's David Bowie's biopic Stardust, and Mi Chiamo Francesco Totti (My Name Is Francesco Totti) directed by Alex Infascelli (S Is For Stanley). Wildside (My Brilliant Friend) produced the latter, which features Totti's voiceover and personal reflections on his career for Italy and lifelong loyalty to AS Roma.
Monda struck a confident note on Friday as he made it clear he and his team want to stage the 15th edition with minimal disruption.
At time of writing all of the sections are confirmed: Official Selection, Homages, Restorations, Retrospective, and Close Encounters with directors, novellists, actors and talent. No further information about the sections was divulged.
Invitations for talent have been sent out, however Monda noted: "There is a bigger issue hanging above our heads. Nobody knows yet if it will be possible for Americans to travel abroad without having to endure a quarantine period at their arrival".
In prior iterations, Rome Film Fest featured appearances by Cate Blanchett, Martin Scorsese, Meryl Streep, Xavier Dolan, David Lynch and Tom Hanks. "One of the biggest American directors just replied to me that he will certainly come in Rome, if Covid allows him to," Monda added.
The festival is arranging a contingency plan that will involve digital screenings, video conferences instead of masterclasses, and social distancing red carpet protocols at Renzo Piano's Auditorium.
Monda said programming was not the biggest challenged he faced. "Though some productions as we all know have been stopped, films have been coming steadily and I'm noticing that also some of the talents are starting to say yes with more certainty".
The news comes as the level of Covid-19 infections in Italy has dropped after peaking in March. Lockdown ended last month.
Cinemas are allowed to open however the lack of strong new titles is stopping many of them from doing so, an issue that Monda suggested could continue into autumn.
"As you probably all know Netflix is not giving its films to any festival until 2021, and we will see if James Bond [No Time To Die] will do its part in helping cinemas by not moving from its November release date," he said.
To boost cinema-going the festival will not build its usual additional venues and will use instead select theatres in Rome for secondary screenings.
The festival is also planning an homage to Rome resident Morricone, who died last week, and will feature a major retrospective of 15 films from Indian director Satyajit Ray.