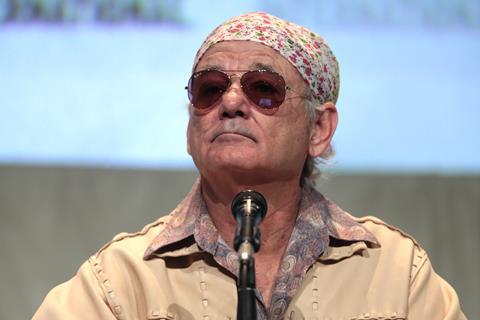 Bill Murray will receive the lifetime achievement award from this year's Rome Film Fest (Oct 17-27) in an accolade to be presented by longtime collaborator Wes Anderson with whom he has worked on films including The Life Aquatic With Steve Zissou and Moonrise Kingdom.
Anderson will also host a masterclass with Murray.
Additionally, the festival will host the a screening of Ron Howard's documentary Pavarotti and a masterclass with the US director.
The complete line-up of the festival will be unveiled onf October 4th but in what has become a regular summer occurrence festival director Antonio Monda previewed several events today (Monday June 24).
The festival is riding high as admissions increased by 30% between 2015 and 2018 to 60.000 last year. Monda confirmed his budget is again €3.4m and revealed his aim to focus even more explicitly on independent cinema.
The independent cinema is the one bringing novelties," he suggested. "Hollywood is going mainstream, producing more of the same bigger, uglier and carefully- planned films, never thinking outside of the three-act box. On the other side, independent cinema, everywhere, is flourishing, telling small stories about everyday life and truth. Think Moonlight, think They Call Me Jeeg, which both were part of our line-up. This is what we are looking for from Russia, to France, to Italy, to South America"
French directors Olivier Assayas and Bertrand Tavernier will both give masterclasses: Assayas on the French Nouvelle Vague, and Tavernier on the pre-Nouvelle Vague.
Writer Bret Easton Ellis will also be in town to present a masterclass, as will Hirokazu Kore-Eda, the Japanese winner of the 2018 Palme d'Or Shoplifters. Kore-eda will be the subject of a retrospective curated by Mario Sesti.
Tributes will also be paid to the 50th anniversary of the release of Federico Fellini's Satyricon, and to the centenary of the birth of Italian director Gillo Pontecorvo. A restored version of Pontecorvo's Oscar-nominated Kapò will be shown.
Celebrations for Sergio Leone are planned as 2019 marks a double anniversary for the director who was born in 1929 and died in 1989. But the exact details have not yet been confirmed as Monda does not want to duplicate the plans of the Venice Film Festival which takes place two months earlier.
"I want to see first what Venice is planning to do about Leone and in what fashion, and then decide," he explained.