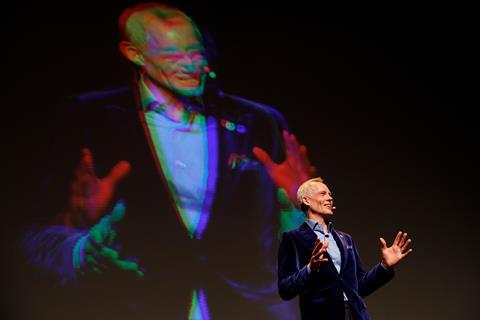 The International Film Festival Rotterdam (IFFR) opened last night (Wednesday January 22) with a speech from outgoing artistic director Bero Beyer championing sustainability and the enduring power of film.
A smiling Beyer was visibly emotional throughout his speech, at one point digressing from his prepared script and receiving multiple interruptions of applause from the audience.
Rather than looking back at his tenure, he spoke of the "distinctive feature of humanity" that is "this urge to communicate" through cinema.
"Through film we pose profound questions in an attempt to find meaning in our never-ending quest for truth, any truth," said Beyer.
"If there is an absolute truth, it is love… Love includes making sure we have a planet to begin with" he continued, echoing the festival's recent sustainability drive.
Beyer also said while filmmaking may seem "just a luxury", it is "something worth devoting our time and passion to… that somehow shows us what it means to be human".
"In too many cases, when people are neglected or restricted, when society or identity itself is at stake, when the notion of freedom of expression is just an idea and filmmakers are at risk - being able to say who you are, that you exist, may well be the most important thing in the world," he continued.
Tributes were paid by Beyer to Rotterdam mayor Ahmed Aboutaleb and Dutch minister of education, culture and science Ingrid van Engelshoven, both of whom were in attendance.
He finished his speech by introducing his successor, Croatian co-production market expert Vanja Kaludjercic, who said it was "a privilege" to lead the festival and praised Beyer, saying she "can only follow in [his] footsteps." She noted her love of films in the Tiger and Bright Future competition sections, as well as IFFR's talks and masterclasses, which this year include Parasite director Bong Joon Ho, and composer Howard Shore.
The festival began with João Nuno Pinto's Mosquito, a Portugal-France-Brazil co-production about a young Portuguese soldier in the First World War who loses touch with reality when trekking through Mozambique.
Director Pinto and his cast spoke briefly afterwards about the film, which plays in the Voices Big Screen Competition.
IFFR 2020 runs until Sunday, February 2, with the IFFR Pro industry section taking place from Saturday 25 until Wednesday 29.