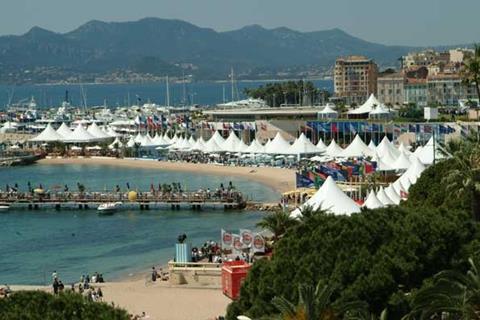 RT Features and Martin Scorsese's Sikelia Productions are in Cannes touting their production and financing partnership on Danielle Lessovitz's Port Authority and Croatian writer-director Antoneta Alamat Kusijanovic's coming-of-age drama Murina.
Both films come out of RT Features joint venture to champion emerging filmmakers from around the world that kicked off with Jonas Carpignano's Cannes 2017 premiere A Ciambra.
Port Authority is a love story set in New York's kiki ballroom scene that is set to begin shooting in New York City this August. Rodrigo Teixeira of RT Features, Madeleine Films' Virginie Lacombe and Zachary Luke Kislevitz will produce with Scorsese and Emma Tillinger Koskoff of Sikelia Productions.
Scorsese is in town to receive the honorary Carrosse d'Or (Golden Coach) celebrating its 50th anniversary at the opening night of Directors' Fortnight ahead of a tribute screening of Mean Streets and on-stage conversation.
Lourenço Sant'Anna and Sophie Mas of RT Features and Frederic de Goldschmidt are the executive producers. Endeavor Content represents US rights and mk2 films handles international sales in Cannes.
Murina is set to production in May on the Croatian Coast tells the story of a teenage girl who decides to replace her controlling father with his wealthy foreign friend during a weekend of sailing, sensuality and violence. Alamat Kusijanovic wrote the screenplay with Christina Lazaridi and developed the project, with support from the Résidence du Festival Cannes, Cinéfondation, the Jerusalem Film Lab, and First Films First, with financial support from the Croatian Audiovisual Center and the City of Dubrovnik.
Producing are Teixeira, Scorsese and Tillinger Koskoff with Zdenka Gold from Spiritus Movens Productions. Sant'Anna and Sophie Mas of RT Features are executive producers. Endeavor Content represents worldwide rights.
Scorsese and Tillinger Koskoff said: "We created this venture with RT Features to amplify authentic and exciting new voices in cinema. Danielle and Antoneta fiercely embody that spirit through their singular visions. We are thrilled to bring their impassioned stories to cinema lovers around the world."
"We are always looking to work with first-time filmmakers – which we have done with now lauded directors such as Robert Eggers on The Witch and Geremy Jasper on Patti Cake$. This continues to be a priority," Teixeira said. "Danielle and Antoneta are two of the most exciting emerging creatives we have come across and we look forward to the world discovering them as well."