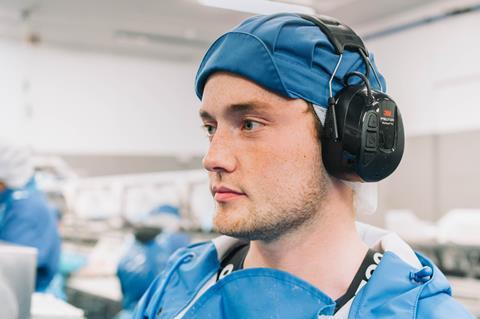 Faroese director Sakaris Stórá has started shooting his second feature, The Last Paradise On Earth, in Hvalba on the Faroe Islands. The film is the first to be shot entirely on the remote island of Suðuroy, with the shoot running May 15-June 30.
Exploring themes of social and environmental changes, the story follows as man as he navigates work at the local fish factory, which is facing closure, and his personal life as his closest friends reveal plans to move abroad and his sister needs his attention.
Samal Hansen stars witht Bjørg B. Egholm, Bjørn M. Mohr and Esther á Fjallinum, Hans Tórgarð (Trom) and Annika Johannessen.
Stórá, who formerly worked at a Faroese fish factory himself, co-wrote the script with Tommy Oksen and Mads Stegger
Jon Hammer produces for Adomeit Film in Denmark and kykmyndir in the Faroes; with Katja Adomeit serving as executive producer. Backers are Danish Film Institute, Film Fyn, DR, the Faroese Ministry of Culture and Creative Europe Media. The film also qualifies for the Faroese reimbursement scheme from the Faroese Film Institute.
The project is the first Faroese-language fiction feature to be supported by the Danish Film Institute since 1999's Bye Bye Bluebird.
The crew includes DoP Virginie Surde, whose credits inlude Casablanca Beats andThe Blue Caftan.
At project stage, The Last Paradise On Earth won the VFF Talent Highlight Award at the Berlinale Talents Market in 2020. It is being produced with a strong focus on sustainable production in collaboration with Denmark's BFTP. The project was part of the New Nordic Narratives Sustainable Film Lab at Haugesund Film Festival in 2022.
The team hopes to deliver the film in early 2024. No sales company is attached yet.
Stora's 2014 short Winter Morning, about teenage girls at a turning point in their lives, won a prize at Berlinale Generation; he followed that with 2018 debut featureDreams by the Sea, about a teenage girl frustrated by her mundane life who meets a rebellious newcomer to her town, which screened at festivals including Rome, Goteborg, Lubeck, Tromsø and Riga.
Hammer is the producer of Dreams by the Sea, documentary Heartist, Faroese TV hit Trom and has also served as the Faroese production manager on No Time To Die.