The 18th FEFF will feature 50 titles in competition, including Lost In Hong Kong, Mojin: The Lost Legend and Ip Man 3, as well as a new Focus Asia market.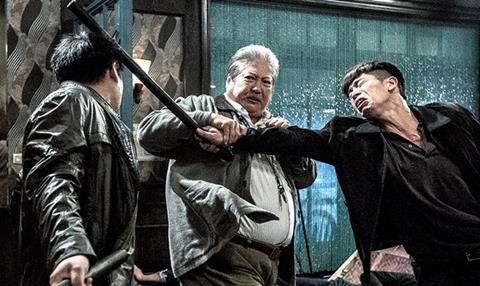 Scroll down for full programme
The Udine Far East Film Festival (FEFF) has revealed the programme for its 18th edition (April 22-30), featuring a myriad of high-profile Asian titles from the past year.
The event will close with the European premiere of director and actor Sammo Hung's latest feature, The Bodyguard [pictured], with Hung due to be in attendance.
Hung's appearance marks the second year in a row that the festival has played host to a Hong Kong film icon, after Jackie Chan attended last year's edition.
The Bodyguard (also known as My Beloved Bodyguard) has grossed close to $50m since its release in China on April 1. The film stars Sammo Hung as a retired bodyguard who strikes up an unlikely friendship with a young girl.
The festival will feature 50 titles in competition, including the local box office hits Lost In Hong Kong, Mojin: The Lost Legend and Ip Man 3.
Among out of competition titles, the festival will host five world premieres – including a new 4k restoration of Bruce Lee classic Fist Of Fury - ten international premieres, and a further 18 European premieres, including the recent China box office-topper Chongqing Hot Pot.
FEFF will also host the inaugural edition of the Focus Asia market, which it is hosting with MIA (the international audio-visual market in Rome), April 27-29. The event will feature screenings and panels, as well as opportunities for European buyers to learn about new Asian productions.
Returning for its eighth edition, the Ties That Bind co-production workshop has selected 15 producers from Europe and Asia to participate in a series of workshops to help them develop feature projects. They will meet with various industry professionals during FEFF, and will go on to participate in a second workshop at the Southeast Asian Film Financing Forum in December.
Competition Section
CHINA (10)
Chongqing Hot Pot, YANG Qing, crime-action- hipster noir, China 2016, European Premiere
The Dead End, CAO Baoping, cop-loves-cop thriller, China 2015, European Premiere
Destiny, ZHANG Wei, human drama, China 2016, World Premiere
The Left Ear, Alec SU, youth drama, China 2015, European Premiere
Lost in Hong Kong, XU Zheng, clash of cultures comedy, China 2015, International Festival Premiere
The Master, XU Haofeng, elegant martial arts, China 2015, European Premiere
Mojin: the Lost Legend, Wuershan, action-adventure-horror-and-more, China 2015, International Festival Premiere
Mountain Cry, Larry YANG, tearjacker melodrama, China 2015, Italian Premiere
Saving Mr. Wu, DING Sheng, movie world action-thriller, China 2015, International Festival Premiere
Young Love Lost, XIANG Guoqiang, youth fantasy-romance, China 2015, European Premiere
CHINA/HONG KONG (2)
The Bodyguard, Sammo HUNG, martial arts drama, Hong Kong/China 2016, International Festival Premiere (Closing Movie)
Ip Man 3 , Wilson YIP, martial artist biopic, Hong Kong/China 2015, International Festival Premiere
HONG KONG (4)
Keeper of Darkness , Nick CHEUNG, horror-thriller-comedy, Hong Kong 2015, European Premiere
The Mobfathers, Herman YAU, triad action-drama, Hong Kong 2016, International Premiere
Trivisa, Frank HUI, Jevons AU, Vicky WONG, goodfellas triad noir, Hong Kong 2016, Italian Premiere
Weeds on Fire, CHAN Chi-fat, baseball drama, Hong Kong 2016, International Premiere
JAPAN (11)
Bakuman, ONE Hitoshi, mangaka action comedy, Japan 2015, European Premiere
Creepy, KUROSAWA Kiyoshi, über-psycho-thriller, Japan 2016, Italian Premiere
Flying Colours, DOI Nobuhiro, lost youth drama, Japan 2015, European Premiere
The Inerasable, NAKAMURA Yoshihiro, psycho-horror with ghost, Japan 2016. European Premiere
Hime-Anole, YOSHIDA Keisuike, pitiless thriller-drama, Japan 2016, World Premiere
The Kodai Family, HIJIKATA Masato, telepathic love story, Japan 2016 World Premiere
Lowlife Love, UCHIDA Eiji, movie-industry dramedy, Japan 2016, Italian Premiere
Maniac Hero, TOYOSHIMA Keisuke, yuppie fantasy-action comedy, Japan 2016, World Premiere
Mohican Comes Home, OKITA Shuichi, punk-hipster-redemption drama, Japan 2016, European Premiere
Round Trip Heart, TANADA Yuki, anarchic road-movie romance, Japan 2015, Italian Premiere
Three Stories of Love, HASHIGUCHI Ryosuke, redemption contemporary drama, Japan 2015, Italian Premiere
MALAYSIA (1)
Ola Bola, CHIU Keng Guan, soccer drama, Malaysia 2016, European Premiere
SOUTH KOREA (14)
Assassination, CHOI Dong-hoon, grand historical epic, South Korea 2015, Italian Premiere
A Break Alone, CHO Jae-hyun, drama of jealousy, South Korea 2016, European Premiere
The Exclusive: Beat the Devil's Tattoo, ROH Deok, quirky media thriller, South Korea 2015, Italian Premiere
Fatal Intuition, YUN Jun-hyung, grim psycho thriller, South Korea 2015, International Premiere
Fourth Place, JUNG Ji-woo, sports drama, South Korea 2015, Italian Premiere
Inside Men, WOO Min-ho, breathless thriller, South Korea 2015, International Festival Premiere
Making Family, CHO Jin-Mo, kid-on-the-road, South Korea 2016, International Premiere
A Melody to Remember, LEE Han, Korean War drama, South Korea 2016, International Premiere
The Priests, JANG Jae-hyun, exorcist psycho-horror, South Korea 2015, Italian Premiere
The Silenced, LEE Hae-young, period all-female horror, South Korea 2015, European Premiere
Sori: Voice from the Heart, LEE Ho-jae, R2-D2 drama, South Korea 2016, International Premiere
The Tiger, PARK Hoon-jung, mountain-action epic, South Korea 2015, International Festival Premiere (Opening Movie)
Wonderful Nightmare, KANG Hyo-jin, deal-with-the-devil comedy, South Korea 2015, European Premiere
The World of Us, YOON Ga-eun, youth drama, South Korea 2016, Italian Premiere
THE PHILIPPINES (2)
Honor Thy Father, Erik MATTI, heist movie, The Philippines 2015, Italian Premiere
Apocalypse Child, Mario CORNEJO, surf-peppered drama, The Philippines, International Premiere
TAIWAN (2)
Our Times, Frankie CHEN, comedy-romance, Taiwan 2015, European Premiere
The Tag-Along, CHENG Wei-hao (Vic), contemporary horror, Taiwan, Italian Premiere
THAILAND (3)
Senior, Wisit SASANATIENG, fantasy-ghost-horror-comedy, Thailand 2015, International Festival Premiere
The Forest, Paul SPURRIER, horror in the woods, Thailand, European Premiere
Heart Attack, Nawapol THAMRONGRATTANARIT, yuppie romance with flashy T-Shirts, Italian Premiere
VIETNAM (1)
Bitcoin Heist, Ham TRAN, mission: more than impossible, Vietnam 2016, International Premiere
Out Of Competition
BEYOND GODZILLA: ALTERNATIVE FUTURES AND FANTASIES IN JAPANESE CINEMA (10)
Blue Christmas, OKAMOTO Kihachi, Japan 1978
Exchange Students, OBAYASHI Nobuhiko, Japan 1982
Gamera 3: Incomplete Struggle, KANEKO Shusuke, Japan 1999
The Girl Who Leapt Through Time, OBAYASHI Nobuhiko, Japan 1983
HOUSE, OBAYASHI Nobuhiko, Japan 1977
Invasion of the Astro Monster, Honda Ishiro, Japan 1965
Latitude Zero, HONDA Ishiro, Japan 1969
Mysterians, HONDA Ishiro, Japan 1957
Matango, HONDA Ishiro, Japan 1963
School in the Crosshairs, OBAYASHI Nobuhiko, Japan 1981
DOCUMENTARIES (3)
The Cambodian Space Project - Not Easy Rock'n'Roll, Marc EBERLE, Australia/UK, European Premiere
The Lovers and the Despot, Ross ADAM, Robert CANNAN, UK, 2016, Italian Premiere (Biografilm Festival preview)
Reach for the Sky, CHOI Woo-young, Steven DHOEDT, South Korea/Belgium, 2015, Italian Premiere
INFO SCREENING (2)
Ten Years, Jevons AU, Kiwi CHOW, KWOK Zune, NG Ka-leung, WONG Fei-pang, drama, Hong Kong 2015, European Premiere
Fukushima A Nuclear Story, Matteo Gagliardi, documentary, Italy 2016
CHINA NOW (4)
Cut Out the Eyes, XU Tong, documentary, China, 2014, Italian Premiere
Double Act, DING Shiwei, China, short, 2013, Italian Premiere
Egg and Stone, HUANG Ji, drama, China 2012, Italian Premiere
Perfect Conjugal Bliss, ZHONG Su, short, China, 2014
FRESH WAVE SHORTS (3)
Conditioned, CHAN Kam-hei, short, Hong Kong 2015, International Premiere
And Afterwards, LAW Sin-yan, short, Hong Kong 2015, International Premiere
Where's the Head?, LUI Mei-fung, short, Hong Kong 2015, International Premiere
CLASSIC RESTORED (5)
The Big Boss, LO Wei, martial arts, Hong Kong, 1971, 4K Restored Version International Premiere
Fist of Fury, LO Wei, martial arts, Hong Kong, 1972, 4K Restored Version World Premiere
Game of Death, Robert CLOUSE, Bruce LEE, Sammo HUNG, martial arts, Hong Kong/USA, 1978, 4K Restored Version International Premiere
Of the Flesh, Marilou DIAZ-ABAYA, melodrama, The Philippines 1983, Restored Version Italian Premiere
The Way of the Dragon, Bruce LEE, martial arts, Hong Kong 1972, 4K Restored Version International Premiere