True-life drama recounts early days of invasion of Norway.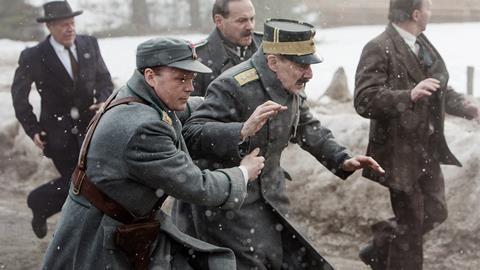 Samuel Goldwyn Films has acquired North American rights to Erik Poppe's The King's Choice and plans a theatrical release in August.
The King's Choice is based on the true the story about three dramatic days in April 1940, where the King of Norway was presented with an unimaginable ultimatum from German armed forces: surrender or die.
The Royal Family fled Oslo to protect their family. However after three days King Haakon refused to capitulate, even if it would cost him, his family and many Norwegians their lives.
The historical drama stars Jesper Christensen, Anders Baasmo Christiansen, Karl Markovics, Tuva Novotny , Arthur Hakalahti, and Katharina Schüttler.
Jan Trygve Røyneland and Harald Rosenløw Eeg wrote the screenplay. Finn Gjerdrum and Stein B. Kvae of Paradox Film 1 AS produced.
Nordisk Film Production, Newgrange Pictures, Film Väst and Copenhagen Film Fund og Zentropa International Sweden co-produced The King's Choice.
Peter Goldwyn, president of Samuel Goldwyn Films, said: "The King's Choice exemplifies the bravery of men standing against tyranny in this truly inspiring historic epic shedding light on a defining, and often unremarked, moment in history."
Goldwyn brokered the deal with Dirk Schurhoff of Beta Film GmbHon on behalf of the filmmakers.