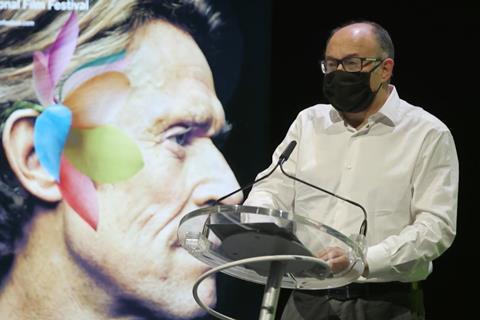 US actor Willem Dafoe has been revealed as the face of the San Sebastian International Film Festival, which is set to run September 18 to 26 in Spain.
The artwork was unveiled today by San Sebastian festival director José Luis Rebordinos at a socially-distanced press conference.
Addressing how the festival has made changes to the format of the event due to the Covid-19 outbreak, a masked Rebordinos said: "The festival comes in one of the most uncertain years. We are working to make it a recognisable and safe festival, which gives optimism to the city and the audiovisual industry."
Previously announced changes to this year's festival include a reduction in the number of screenings (30% fewer) and much of its industry activity running online, including the Co-Production Forum, Zinemaldia and Technology, round tables and masterclasses.
Some venues will not be used, including the Velodrome and San Telmo Museum, but there will be physical screenings of the official selection competition, New Directors, Horizontes Latinos, Zabaltegi-Tabakalera, Perlak and Nest; Culinary Zinema (a selection of films accompanied by themed dinners), Zinemira, Made in Spain and weekend movies for youngsters.
The first six titles that will screen in competition have been announced as well as opening film, Woody Allen's Rikfin's Festival. Remaining titles in the festival's official selection are set to be revealed in the coming weeks.
Poster significance
The poster is part of SSIFF's Smells of Cinema series. It was created by San Sebastian-based studio Patio, which previously designed the poster of a retrospective dedicated to Ernst Lubitsch at the festival's 54th edition in 2006.
Dafoe is a four-time Oscar-nominated actor who first attended the festival in 1988 with Martin Scorsese's The Last Temptation Of Christ and received the festival's honorary Donostia Award in 2005. He also attended San Sebastian in 1997 with Mark Peplow's Victory, which played in competition, and last visited in 2014 with Abel Ferrara's Pasolini.
The US actor most recently appeared in Abel Ferrara's Siberia which screened in competition at the Berlinale in February. He also stars in Wes Anderson's anticipated The French Dispatch.
It marks the third year an international star has fronted the festival's official poster, which combines photography with illustration, following Isabelle Huppert in 2018 and Penelope Cruz in 2019. The poster was created by San Sebastian studio Patio based on an image by photographer Martin Schoeller.