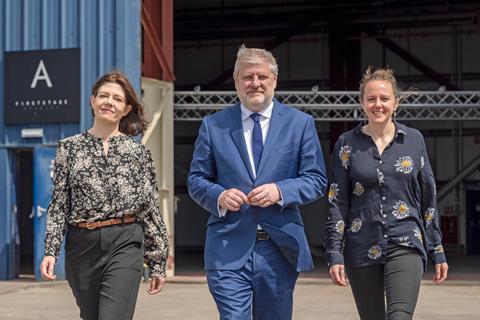 Scotland's screen sector delivered £567.6m GVA (gross value added) in 2019 to the Scottish economy, according to a new report commissioned by Screen Scotland, the national body that drives the development of the Scottish film and TV industry.
In the same period, the screen sector in Scotland provided 10,280 full-time equivalent jobs.
The report, titled The Economic Value of the Screen Sector in Scotland, was produced by UK accountancy firm Saffery Champness and UK and Canada-based consultancy firm Nordicity, with the aim of giving the first clear picture of the economic value of the screen sector across Scotland. It covers the first full year following the establishment of Screen Scotland in late 2018.
The study analysed the economic contribution of the screen sector value chain, which includes film and TV development and production, animation, VFX and post-production, film and TV distribution, TV broadcast and film exhibition.
It also looked at the supply chains that provide services, including facilities, equipment, transport, catering and accommodation. Additionally, the study observed where the screen sector stimulates economic activity elsewhere in the Scottish economy: screen tourism, the education and training sectors and infrastructure.
The UK's public service broadcasters, in particular BBC and Channel 4, spent an estimated £196.6 million on content production in Scotland in 2019, according to the report.
A follow up study of 2021 is in progress – a year that saw an immense boom in Scottish production. In Glasgow alone, a record £42.4m was generated for the local economy off the back of film and TV productions shooting across the city. Productions to have filmed in Scotland include Batgirl, The Batman, Tetris and the fifth Indiana Jones, plus Amazon Prime Video series The Rig, Anansi Boys and the second season of Good Omens. This report will be published in 2023.
Isabel Davis, Screen Scotland's executive director, said: "A strategy for the Scottish screen sector needs robust numbers – they reveal where there's room for growth, the interdependencies of related sub sectors, along with the spillover benefits to tourism, retail, hospitality and construction.
"This is the first true benchmark of the value of Scotland's screen sector and it's far larger than has been captured by previous studies. Better still, we see the potential to double GVA by 2030, if investment in local content, production skills and infrastructure continues.
"Ultimately our goal is to strengthen locally originated production and the many industries that surround it. The positive interaction between large scale incoming production and the local sector, recently evidenced in productions such as Good Omens and Batgirl, is an important part of that picture."
Douglas Mackinnon, who is co-showrunner across two productions for Amazon Prime Video that have shot in Scotland (Good Omens series two and Anansi Boys), added: "People who work in the screen sector in Scotland have in their gift a chance to go even further than we already have in our very successful recent period, by supporting large scale productions as well as bringing through Scottish voices with confidence onto an international platform."