UPDATED (gallery/official winners book): The Screen Awards has unveiled its 2014 winners, recognising excellence in UK marketing, distribution and exhibition.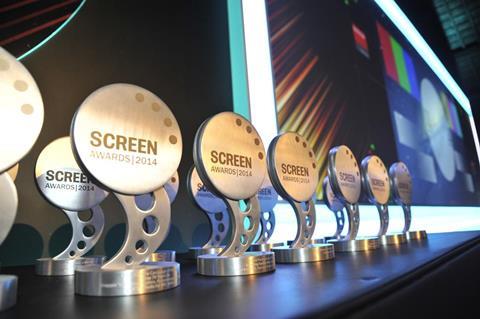 Scroll down for full list of winners
The awards were handed out at a glamorous ceremony at The Brewery in London last night, before 500 assembled guests. Broadcaster Edith Bowman hosted the event for the third year.
Twentieth Century Fox took home the hotly contested studio distributor of the year award, while Curzon Artificial Eye won the best independent distributor prize.
Prison drama Starred Up, from Twentieth Century Fox, took home theatrical campaign of the year, with a highly commended notice for Alain Guiraudie's Stranger By The Lake.
Twentieth Century Fox scored a further four wins including 3D campaign for How To Train Your Dragon 2 and prizes for best marketing team, online campaign for Dawn of the Planet of the Apes with Think Jam; and PR campaign for Belle with Premier PR.
Cineworld, O2 was named cinema of the year (25 screens or over) while the Brynmawr Market Hall Cinema, the oldest in Wales, was crowned cinema of the year (24 screens or under) – with a highly commended for London's Olympic Studios.
The rising star prize was bestowed on Sam Clements from Picturehouse Entertainment.
Click this cover to browse the awards brochure…
Lionsgate UK won two prizes: poster design of the year for its work on Filth; and best premiere, with elevenfiftyfive, for its opening of Chef.
Universal Pictures won PR team of the year while best trailer went to Like Father, Like Son from Arrow Films and Intermission.
New categories this year included an event cinema award, which went to D-Day: 70 Years On from Snappin' Turtle Productions, Picturehouse Entertainment and TBI Media for BBC Radio 2.
Documentary campaign of the year went to Altitude's 20 Feet From Stardom.
Target Media was named media planning agency of the year while the best home entertainment campaign went to The Machine, handled by Anchor Bay Entertainment, Red & Black Films, Content Film, Shear Entertainment, East London Film Collective, ARPR and Incite.
Brand partnership of the year went to The Amazing Spider-Man 2 and Evian, which was handled by Brand & Deliver, Danone Waters and Sony Pictures.
Intermission Film was named creative agency of the year (audiovisual) while All City Media was named best creative agency (print).
Andrew Myers, CEO of Everyman Cinemas, was awarded the newly introduced exhibition achievement prize.
Screen International Editor Wendy Mitchell said: "Screen is delighted to present our fifth annual awards, to such a worthy group of winners.
"I am glad to see our industry expert jurors recognise such an impressive group of winners – from the biggest studios and cinemas to community groups.
"All of our nominees and winners should be commended for the work they do in connecting films to audiences all over the UK. "
Sponsors for the evening included Air New Zealand, The Cinema Exhibitors' Association, Christie, Creative Skillset, Deluxe Connect, Deluxe Digital Cinema, Digital Cinema Media, Exterion Media, Market Reactive, Motion Picture Solutions, The Telegraph, RealD, Vista and Ymagis.
Judges who voted for this year's winners were industry experts Mark Adams, Carola Ash, Chris Auty, Moses Babatope, Alexei Boltho, Edith Bowman, Peter Buckingham, Phil Clapp, Mark Cosgrove, Michelle Gardiner, Claire Gascoyne, David Hancock, Lee Magiday, Michael Mann, Kate Muir, Kate Ogborn, Jonny Persey, Andrew Pettie, Alexandra Rossi, Jamie Schwartz, Simon Ward, Peter Webber, John Woodward and Jane Wright.
Screen Awards 2014 winners
3D film Campaign of the Year
Sponsored by RealD
How to Train Your Dragon 2, Twentieth Century Fox
Poster Design of the Year
Sponsored bv Market Reactive
Filth, Lionsgate UK
Trailer of the Year
Like Father, Like Son, Arrow Films & Intermission
Home Entertainment Campaign of the Year
The Machine, Anchor Bay Entertainment, Red & Black Films, Content Films, Shear Entertainment, East London Film Collective, ARPR, Incite
Documentary Campaign of the Year
20 Feet from Stardom, Altitude
Event Cinema Campaign of the Year
Sponsored by Deluxe Connect
D-Day: 70 Years On, Snappin' Turtle Productions, Picturehouse Entertainment and TBI Media for BBC Radio 2
Online Campaign of the Year
Dawn of the Planet of the Apes, Think Jam and Twentieth Century Fox
Brand Partnership of the Year
Sponsored by Digital Cinema Media
The Amazing Spider-Man 2 and Evian, Brand & Deliver, Danone Waters and Sony Pictures
Premiere of the Year
Sponsored by Motion Picture Solutions
Chef, Lionsgate UK and elevenfiftyfive
Downhill, Zeffirellis and Rambling Road Entertainment - Highly Commended
PR Campaign of the Year
Belle, Twentieth Century Fox and Premier
Theatrical Campaign of the Year
Sponsored by Motion Picture Solutions
Starred Up, Twentieth Century Fox
Stranger By The Lake, Peccadillo Pictures - Highly Commended
PR Team of the Year
Universal Pictures
Marketing Team of the Year
Sponsored by Exterion Media
Twentieth Century Fox
Media Planning Agency of the Year
Sponsored by The Telegraph
Target Media
Creative Agency of the Year, Audiovisual
Intermission Film
Creative Agency of the Year, Print
All City Media
Rising Star
Sponsored by Creative Skillset
Sam Clements, Picturehouse Entertainment
Cinema of the Year, from a company 25 screens or over
Sponsored by Vista
Cineworld, O2
Cinema of the Year, from a company with 24 screens or under
Sponsored by Christie
Market Hall Cinema Brynmawr Community Group
Olympic Studios – Highly Commended
Exhibition Achievement Award
Sponsored by CEA
Andrew Myers, CEO of Everyman Cinemas
Distributor of the Year, Independent
Curzon Artificial Eye
Distributor of the Year – Studios
Sponsored by Deluxe Digital Cinema
Twentieth Century Fox