Aleksey German-Jr.'s new feature Dovlatov (which premieres in competition in Berlin next month) is to receive an ambitious "blitz" release, which could reach up to 800 screens, through Disney and Sony's joint Russian distribution arm in early March.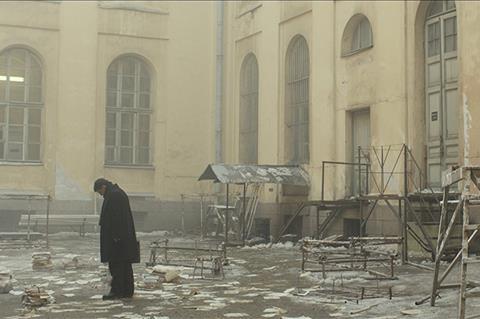 The news of the unusual campaign was confirmed by Metrafilms' Artem Vasilyev, one of the producers of the film, at International Film Festival Rotterdam this week. "We want a really wide release but a really short release," Vasilyev said of the "Weekend with Dovlatov" strategy, which is to have the film in cinemas for four days. The Russian/Polish/Serbian coproduction tells the story of writer and journalist, Sergei Dovlatov in the period just before he is forced into exile.
Dovlatov is handled internationally by Paris-based international sales company, Alpha Violet.
Metrafilms
Vasilyev is in Rotterdam with Aleksey Fedorchenko's Anna's War (picked up for world sales earlier this month by Media Luna). The film tells the story of a 6-year-old Jewish girl who hid from Nazis on her own.
Metrafilms produced it alongside fellow Russian company, SAGa film company. Anna's War received backing from the Genesis Philanthropy Group, which supports Russian-Jewish projects globally but was made without Government funding.
A crowdfunding campaign was launched recently to complete the film, which goes on to Gothenburg after IFFR and it will receive its Russian premiere at the Kinotavr Open Russian Film Festival in the summer prior to a likely Russian release in the autumn.
Metrafilms is also producing The Humorist, the debut feature of Michael Idov, a novelist and former editor of Russian GQ. Set in the mid 1980s, this is the story of a fictional stand-up comedian in the USSR, beloved by the Government but consumed by doubt and self-loathing and slowly losing his mind.
The film is a coproduction between Russia, Latvia and the Czech Republic. A sales agent is expected to be confirmed shortly.
Another new Metrafilms project is Valeria Germanika's Imaginable Wolf, scripted by Yuri Arabov. This is billed as "a story about fear".
Metrafilms and SAGa are collaborating on another new Fedorchenko feature which is already shooting - The Keys Of Happiness - a complex story about a Russian fruit grower and follower of Russian biologist and breeder posted to Kazakhstan in 1943 who discovers the diary of a writer who has died recently in strange circumstances. It is loosely adapted from Soviet author Mikhail Zoshchenko's late novel, Before Sunrise. The film is in production now.