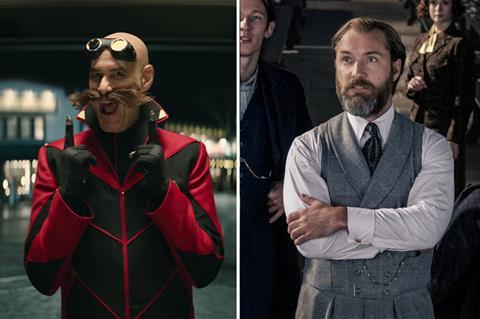 Worldwide box office April 8-10
| Rank | Film (Distributor) | 3-day (world) | Cume (world) | 3-day (int'l) | Cume (int'l) | Territories |
| --- | --- | --- | --- | --- | --- | --- |
| 1. | Sonic The Hedgehog 2 (Paramount) | $108m | $141m | $37m | $70m | 54 |
| 2. | Fantastic Beasts: The Secrets Of Dumbledore (Warner Bros) | $58m | $58m | $58m | $58m | 22 |
| 3. | Morbius (Sony) | $25.2m | $126.3m | $15m | $69.3m | 63 |
| 4. | The Batman (Warner Bros) | $13.1m | $735.1m | $6.6m | $376.1m | 76 |
| 5. | Ambulance (Universal) | $11.5m | $31.1m | $2.8m | $22.4m | 69 |
| 6. | The Lost City (Paramount) | $11.2m | $78.5m | $2.1m | $9.7m | 26 |
| 7. | The Bad Guys (Universal) | $7.4m | $40.3m | $7.4m | $40.3m | 43 |
| 8. | Everything Everywhere All At Once (various) | $6.5m | $9m | $0.4m | $0.6m | 15 |
| 9. | RRR (various) | $6.3m | $128.5m | $5,.7m | $114.8m | 23 |
| 10. | Serial (Bad) Weddings (various) | $5.7m | $5.7m | $5.7m | $5.7m | 1 |
Credit: Comscore, all figures estimates, click top right to expand
'Sonic The Hedgehog 2' pushes total to $141m
UPDATED: Paramount's Sonic The Hedgehog 2 is setting a fast pace at the box office, in both North America and the international arena. The live action/animation hybrid debuted in North America with an estimated $71m, topping the chart by a wide margin, and added a confirmed $37m in 53 international markets – combining for $108m. Total so far is $141m.
For international, the film benefited from 22 new openings, led by Mexico (a confirmed $6.4m) and Brazil ($3.5m).
Among holdover markets, the drop was 38%. UK/Ireland led these with $3.8m for a $13.9m running total, ahead of France ($2.7m for $9m) and Australia ($2m for $5.4m). In most holdover markets, the film faced competition from the arrival of Fantastic Beasts: The Secrets Of Dumbledore, and thus slipped to second place in the local box office chart. Markets to date represent 85% of the international rollout.
The original Sonic The Hedgehog, released pre-pandemic in February 2020, reached $149.0m in North America, $170.7m for international, and $319.7m worldwide. The sequel is now 44% of the way along the path to matching that total.
Also for Paramount, The Lost City grossed an estimated $2.1m in 25 markets, including eight new openings, taking the international total to $9.7m. (With $68.9m in North America, the global tally is now $78.6m.) The Lost City hits key markets this coming weekend, including UK/Ireland, Spain and Australia.
'Fantastic Beasts 3' opens behind the pace of 'Grindelwald'
UPDATED: The debut weekend in 22 early markets for Fantastic Beasts: The Secrets Of Dumbledore suggests this third entry in the franchise will continue the downwards box office trajectory set by second film The Crimes Of Grindelwald.
The Secrets Of Dumbledore topped the box office in all 22 opening markets with a confirmed combined $56.9m, including $4.3m on Imax screens.
Warner Bros did not offer an overall percentage comparison with The Crimes Of Grindelwald in like-for-like markets, but did so in the case of individual territories. For example, Germany and Japan were respectively 26% and 28% behind The Crimes Of Grindelwald.
Top territory for The Secrets Of Dumbledore was China ($9.8m), ahead of Germany ($9.2m), Japan ($8.6m), UK/Ireland ($7.7m), Australia ($3.9m) and Spain ($3m). The UK/Ireland number (£6.1m in local currency) compares with a £12.3m debut for The Crimes Of Grindelwald in 2018, and a £15.3m opening for Fantastic Beasts And Where To Find Them in 2016.
In China, 54% of cinemas are currently closed. The Secrets Of Dumbledore was comfortably ahead of second-placed Hotel Transylvania 4 (aka Hotel Transylvania: Transformania), which grossed $1.4m in its second session. (Source: Artisan Gateway.)
In 2016, Fantastic Beasts And Where To Find Them grossed $814m worldwide, with sequel The Crimes Of Grindelwald achieving $655m two years later. A similar 20% drop for the third film would deliver a $527m global total – which would surely be viewed as a happy result for Warner Bros, given a reported production budget of $200m. It remains to be seen whether The Secrets Of Dumbledore will reach a high enough total for Warner Bros to greenlight the proposed fourth and fifth films in the series, and whether producer Heyday Films will be tasked with shaving off some of the production spend to enhance profitability.
The Secrets Of Dumbledore arrives this coming weekend in North America, and also expands internationally this week to another 44 markets including France, Italy, South Korea, Brazil and Mexico.
Also for Warner Bros, The Batman added another $13.1m (estimated), taking the global total to a confirmed $736.1m. This compares with a $1.01bn lifetime box office total for The Dark Knight, and $1.08bn for The Dark Knight Rises. The Batman earned a confirmed $7.6m internationally for a $377.2m international running total.
'Morbius' drops 70% in second session
Sony's Morbius has delivered estimated second-weekend takings of $15.0m in 62 international markets (a 62% drop) and $10.2m in North America (a 74% drop) – combining for $25.2m and third place in the global weekend chart. Globally, the drop is 70% from the opening weekend.
Cumulative totals are $69.3m for international, $57.1m in North America, and $126.4m worldwide.
On opening weekend, UK/Ireland was the top international market – but the pace has slowed there thanks to the arrival of the Fantastic Beasts film. For the second session, France (which welcomes The Secrets Of Dumbledore this week) led the way among international territories with an estimated $1.3m, ahead of Mexico ($1.2m), Brazil ($1.1m) and UK/Ireland ($1.0m).
The earlier films in Sony's Spider-Man Universe – Venom and its sequel Venom: Let There Be Carnage – respectively grossed $856m and $502m at the global box office. Morbius is only 25% of the way to reaching the latter total. However, given a relatively modest production budget reported at $75-80m, the Marvel collaboration should still achieve profitability for its stakeholders.
Upcoming markets for Morbius include Netherlands (April 21) and Hong Kong (May 19) with a China release yet to be determined.
'Ambulance' opens in North America
Universal's Ambulance moves up from ninth to fifth place in Comscore's global box office chart thanks to the Michael Bay film's arrival in North America, where it opened with a lacklustre estimated $8.7m.
Ambulance also added an estimated $2.8m in international markets, and the worldwide total is now $31.2m. For international, Mexico leads with a $2.3m total, ahead of UK/Ireland ($1.9m), France ($1.8m) and Germany ($1.4m). Spain releases on April 13 and China on April 22.
Also for Universal, DreamWorks Animation's The Bad Guys expanded slightly from 41 to 43 international markets, including a new opening in France (an estimated $1.5m). The international total is now $40.3m, and the film arrives in North America on April 22.