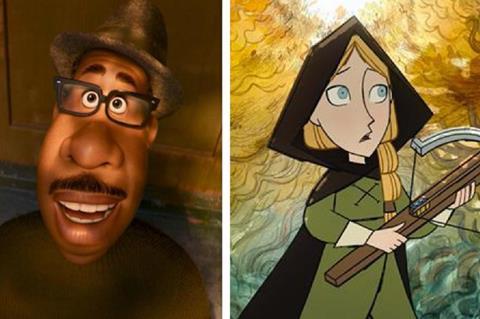 Oscar rivals Soul and Wolfwalkers triumphed at the 48th Annie Awards for animation awards on Friday (April 16), winning best feature and best independent feature, respectively, among a clutch of other prizes.
Pixar's Soul earned the most feature awards – seven – including recognition for best writing, character animation, storyboarding, editorial, FX, and music in the feature category.
However Wolfwalkers, produced by Cartoon Saloon and Melusine Productions for Apple and GKIDS, enjoyed a big night too, claiming five awards including best direction for Tomm Moore and Ross Stewart, character design, production design, and voice acting.
Both are nominated for best animation feature at next week's Academy Awards alongside Shaun The Sheep Movie: Farmageddon, Over The Moon, and Onward.
In the honourary prizes the Winsor McCay Award for career contributions to the art of animation went to Willie Ito, the late designer Sue Nichols, and animator-director Bruce Smith.
Animator and art director Daisuke "Dice" Tsutsumi was awarded the June Foray Award for significant and benevolent or charitable impact on the art and industry of animation.
The Ub Iwerks Award for technical advancement went to Epic Games for the ground-breaking Unreal Engine video game software. Stone Circle Pictures' Howard received the Special Achievement Award recognising the unique and significant impact on the art and industry of animation.
Select winners:
Best feature
Soul
Best independent feature
Wolfwalkers
Best direction – feature
Wolfwalkers
Best writing - feature
Soul
Best character animation - feature
Soul
Best character animation – live action
The Mandalorian
Best character design – feature
Wolfwalkers