Treaty negotiated by Netherlands Film Fund and the National Film and Video Foundation.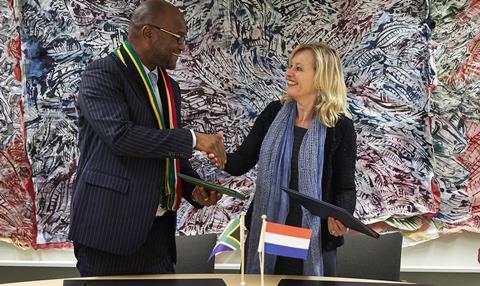 South Africa and the Netherlands have signed a film and TV co-production treaty.
The treaty has been negotiated by the Netherlands Film Fund and the National Film and Video Foundation, both of which will assess applications for the co-production scheme.
According to the two treaty, "the level of performing, technical and craft contribution of each co-producer must be in line with the financial support that he/she brings to the project, which can be no less than 10% and no more than 90% of the production costs."
Ms. Zama Mkosi, CEO of the National Film and Video Foundation said of the treaty: "Filmmakers from both our countries are also going to benefit from the DTI incentive scheme, which its aim is to encourage and attract big-budget productions and post production."
Doreen Boonekamp, CEO of the Netherlands Film Fund said that previous exchanges between the two countries with co-productions such as Black Butterflies, The Price of Sugar and The Dream of Shahrazad "reveals promising opportunities for closer co-operation."
South Africa has previously signed co-production treaties with Germany, Canada, Italy, United Kingdom, New Zealand, France, Ireland and Australia.
The Netherlands has co-production treaties with France, Canada, Germany and China.