EXCLUSIVE: Director also talks about his enduring passion for celluloid over digital.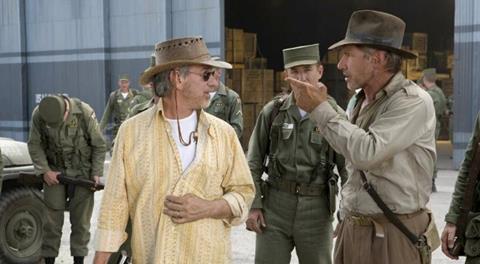 Steven Spielberg has told Screen that he intends to make a fifth Indiana Jones film and will never replace Harrison Ford in the title role.
"I don't think anyone could replace Harrison as Indy, I don't think that's ever going to happen," he said in an interview with Screen International.
With Ford in his mid-70s, there have been rumours that the whip could be passed on to another actor, with Chris Pratt being one suggested name. But Spielberg firmly denies the speculation.
"It's certainly not my intention to ever have another actor step into his shoes in the way there have been many actors that have played Spider-Man or Batman. There is only going to be one actor playing Indiana Jones and that's Harrison Ford."
Raiders of the Lost Ark (1981), Indiana Jones and the Temple of Doom (1984), Indiana Jones and the Last Crusade (1989) and Indiana Jones and the Kingdom of the Crystal Skull (2008) have earned nearly $2 billion in worldwide box office since their release.
But with Crystal Skull deemed a disappointment to some critics and fans, Screen asked Spielberg why he would want return to the character yet again.
"Because there are more adventures out there than films," said the filmmaker, who turns 69 on Dec 18. "So as long as there's more adventures out there, I've got a bullwhip, a fedora, a leather jacket and a man on a horse who knows how to get the job done."
Film vs Digital
In Screen's interview, in which Spielberg talks in detail about his latest film Bridge Of Spies, the director explained his continued insistence to shoot on film, at a time when many are turning to digital cameras.
"If it is a straight story, without any benefits of new technology, there's no reason to shoot anything digitally," said the long-time celluloid champion. "The outcome digitally looks like the difference between a painting with acrylics and a painting with oils.
"Film is textural and had a kind of velocity in the grain count alone where digital is as clean as looking through a pane of glass at the outside world and to me it's almost too vivid, too vibrant, too real.
"Especially in historical films, there needs to be a bit of a veil between the here and now and something that happened way back when. That veil is almost unconsciously provided when you shoot on celluloid but is lost when you shoot it digitally. As long as we have film, why not shoot with the real stock?"
Asked if George Lucas, Spielberg's long-time friend and collaborator on the Indiana Jones series as well as a famous advocate of digital, twisted his arm on the issue, the three-time Oscar winner added: "He used to but he could never get me to do that."
The full interview, in which Spielberg also discusses the inspiration behind Bridge of Spies, his evolving process, upcoming projects and whether he is planning retirement, can be read by clicking here.