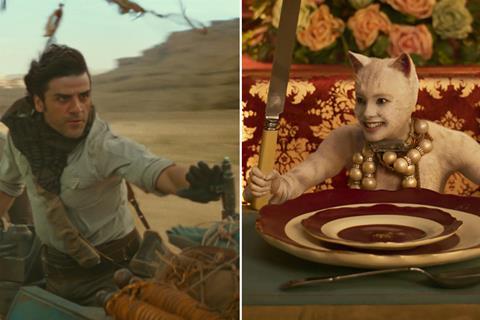 Today's GBP to USD conversion rate: 1.29
| | | | | |
| --- | --- | --- | --- | --- |
| Rank | Film (Distributor) | Three-day gross (Dec 20-Dec 22) | Total gross to date | Week |
| 1 | Star Wars: The Rise Of Skywalker (Disney) | £14.4m | £20.8m | 1 |
| 2 | Cats (Universal) | £3.2m | £3.2m | 1 |
| 3 | Jumanji: The Next Level (Sony) | £2.9m | £14.7m | 2 |
| 4 | Frozen II (Disney) | £2.2m | £41.7m | 5 |
| 5 | Last Christmas (Universal) | £803,948 | 16.9m | 6 |
Disney
Star Wars: The Rise Of Skywalker took £14.4m on its opening weekend at the UK box office, recording the fourth-highest opening weekend of 2019.
It was behind the three-day figures of fellow Disney titles Avengers: Endgame (£31.5m), The Lion King (£16.7m), and Frozen II (£15.1m).
Having opened on Thursday 19, the film has £20.8m in total.
While those figures are a large amount for any film, they are down on the starts of the previous two Star Wars sequels.
Star Wars: The Force Awakens set the then-record for a single biggest day at UK cinemas with £9.6m on its first day on Thursday, December 17 2015. It then made £24.3m across its opening three-day weekend for £34m including previews.
It finished on £123.2m, still the record gross for a film in the UK by more than £20m.
Star Wars: The Last Jedi had a strong £20.3m three-day start in 2017, with £28m including previews. It ended on £82.7m, the sixth-highest grossing title in the territory.
However, The Rise Of Skywalker opened slightly later in December than its predecessors, with Disney hoping that it will have a longer post-Christmas tail as a result.
Frozen II continues to perform well, falling just 33% on its fifth weekend with £2.2m despite strong competition from new openers.
It is now up to £41.7m, making it the fifth highest-grossing title of the year. It is on track to beat the Christmas week figures of the 2013 first film; it will also top the £43.1m final gross of that film this week.
Universal
Tom Hooper's Cats struggled on its opening weekend, taking £3.2m from 618 locations for a £5,175 location average.
The Working Title adaptation of Andrew Lloyd Webber's 1981 musical mostly critical reviews, with Universal issuing an updated version of the film to exhibitors over the weekend following reports that the CGI on the film was not finished in time.
Its UK performance does outstrip its poor US result though – it took just $6.5m (£5m) for fourth place stateside.
Wham-themed festive title Last Christmas continues to hold well on its sixth weekend, falling just 37.2% with £803,948. It is now up to £16.9m, the 18th highest-grossing title of the year so far.
Abominable continues to take money on its 11th weekend, with £58,690 bringing it to £8.2m; while Black Christmas fell a huge 90.2% with £27,716 taking it to £475,357 after two weekends.
Sony
Last week's number one Jumanji: The Next Level held reasonably well against the strong openers, falling 44% with £2.9m bringing it to £14.7m.
Lionsgate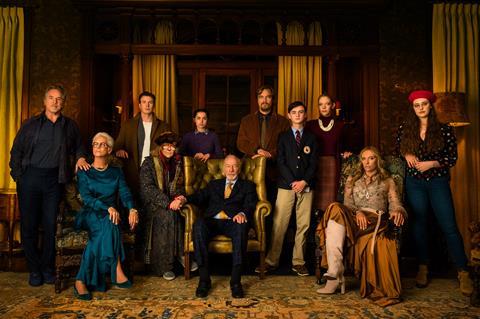 Rian Johnson's Knives Out dropped 65.7% on its fourth weekend, adding £429,188 for £9.7m so far. This represents a strong result for what was Lionsgate's widest-ever UK release, especially for an original story with a mid-level budget.
Yash Raj Films
Bollywood thriller Dabangg 3 opened to a decent £215,665 from just 64 locations, for a £3,370 average. It increased its takings on each day from Friday through Sunday and will look to build as a decent Hindi-language counter-programming option to the English-language blockbuster titles.
Paramount
Rapman's Blue Story added £57,000 on its fifth weekend and now has £4.3m in total.
Warner Bros
A selection of Warner Bros' titles are nearing the end of their cinema runs in the UK. Joker added £12,000 on its twelfth session and has £57.9m overall, the fourth highest-grossing film of the year and 22nd highest-grossing of all time.
The Good Liar added £5,000 for £3.8m; rep screenings of Gremlins added £4,000 for £244,000; while Edward Norton's Motherless Brooklyn put on £3,000 for £386,000.
Park Circus
Rep screenings of Will Ferrell-starring Christmas favourite Elf have now reached £369,756 after three weeks on release.
Trafalgar Releasing
An event release of documentary Gorillaz: Reject False Icons on Monday, December 16 grossed £124,825 with a £821 location average.