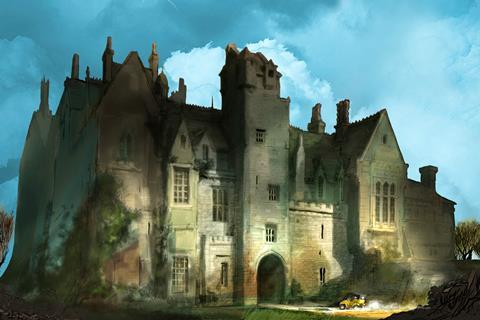 Cinema Management Group (CMG) launches worldwide sales at AFM next week on an animated adaptation of Oscar Wilde's The Canterville Ghost in association with Robert Chandler's Space Age Films and Gina Carter and Stephen Fry's Sprout Pictures.
Veteran British performer, writer and raconteur Fry will voice Sir Simon de Canterville, a spirit that has scared off anybody who has dared to inhabit his stately home for several centuries.
All that changes when an American family move in and turns the tables on the spectral resident. The exhausted ghost rediscovers hope when he teams up with the family's teenage daughter to find out the reason behind his 300-year-old curse.
Fry is joined on the voice cast by Freddie Highmore, Imelda Staunton, and Toby Jones, and production is set to kick off in the the first quarter of 2019.
This latest acquisition builds on CMG's animation track record that has earned an Oscar nomination for Loving Vincent, and includes three features currently in production: Triggerfish Animation Studio's Seal Team; Peruvian studio Tunche Films' Ainbo: Spirit Of The Amazon which is being produced with Richard Claus' Cool Beans in the Netherlands; and Noah's Ark: A Musical Adventure produced by Fabiano Gullane, Caio Gullane, and Walter Salles.
CMG's vice-president of sales and operations Dené Anderberg serves as executive producer with CMG president Edward Noeltner and brokered the deal with Robert Chandler and Paul Grindey on behalf of the production.
"As a longtime fan of Oscar Wilde, specifically the original Canterville Ghost live-action film adaptations as a child, I'm thrilled to be working with the production team to bring this wonderful story to today's generation of children and families," said Anderberg.
Space Age Films' Chandler added: "I love working with the team at CMG. Dené has such a good eye for detail on the screen and in the deal. If we are going to be doing justice to Oscar Wilde, we want to be working with the right people to bring our vision for the film to fruition."
Kim Burdon (Stressed Eric) will direct and Chandler (The Deep) and Gina Carter (Yardie) are producing. Executive producers include UK animation veteran Jerry Hibbert (Heavy Metal), Bob Benton (Finding Your Feet), and Paul Grindey and Charles Moore of Viewfinder Film.