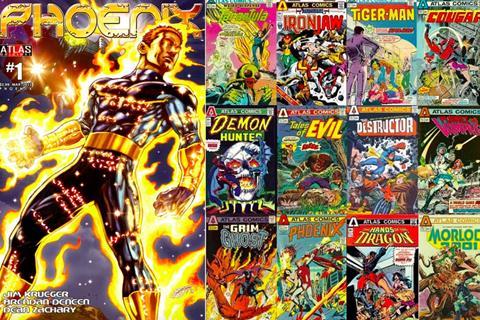 Steven Paul's SP Media Group (SPMG) is buying a majority stake in the Atlas Comics library and has struck a co-production and co-financing first-look deal with Paramount to develop, produce and distribute superhero films based on the IP, Paul announced in Cannes on Thursday.
Paul, whose credits include Ghost Rider, Ghost Rider: Spirit Of Vengeance, and Ghost In The Shell, has also signed Oscar-winning screenwriter Akiva Goldsman (A Beautiful Mind) and his Weed Road Pictures to oversee a writers room to exploit the properties, which include Phoenix, Tiger-Man, Iron Jaw, The Dark Avenger, and The Grim Ghost.
SP Media Group struck the acquisition deal through Atlas Comics library owner Nemesis Group Inc. and its principal Jason Goodman, who is the grandson of Marvel Comics founder Martin Goodman.
Production on the first project is anticipated to commence during the second quarter of 2020 with a release expected for 2021. The companies intend to produce and release at least one superhero project each year after that. The writers room will get to work on creating 10 initial outlines and will choose the first project after that.
Jon Voight, a longtime family friend of the Pauls (Paul is Voight's manager) turned up to a press conference at the Carlton on the Croisette and said he would help with screenplays and anticipated acting in some of the films. He stars in family drama JL Family Ranch 2, which Pauls' Crystal Sky Pictures is selling in Cannes.
While Paul did not disclose details on budgets, he said they would be "up to the superhero budgets". Screendaily understands that could mean some projects will reach the $100m level of Ghost Rider.
SPMG and Paramount will produce along with Goldsman's Weed Road, and Paramount and SPMG will co-finance, with Paramount Pictures handling North American distribution and SPMG handling international distribution. Clearly a coup for Paul, the deal also marks an important content supply line for Paramount, which is building back under the stewardship of chairman and CEO Jim Gianopulos and gets a stable of superhero properties to distribute in North America.
Paul, Goldsman and Atlas president of production, Spike Seldin will produce the films. Seldin will supervise development for Atlas, and Greg Lessans will supervise for Weed Road.
Jason Goodman will maintain an interest in the new Atlas company, will head up publishing, and will be involved in all future film and television productions, serving as executive producer on all films. SPMG president Scott Karol will also serve as executive producer.
"Intellectual Property of this kind is hard to come by in this day and age, and we are excited to be working with Steven Paul and SP Media Group to bring the iconic Atlas comic book library to the big screen," said Paramount COO Andrew Gumpert.
"Steven Paul, Akiva Goldsman and the whole team at the singularly iconic Paramount Pictures bring a level of talent and enthusiasm to this venture that carries my family's body of work in the comic book industry into filmed entertainment," added Goodman.
"What an opportunity that we have with the Atlas universe, which spans so many genres: superheroes, sci-fi, fantasy, supernatural, horror, creatures, vampires, cops, cowboys, soldiers… The breadth of this material is extraordinary," said Paul. "I am looking forward to this adventure with Atlas for many years to come."
Goldsman said, "Atlas Comics is a treasure chest of classic art characters and storylines. I am more than excited by the prospect of joining Jason Goodman, Steven Paul, Scott Karol, and Spike Seldin in opening it up for the world. We will do our sincere best to satisfy fans old and new."
The Paramount-SPMG deal was negotiated by Gumpert and Karol. The deal to acquire the majority interest in the Atlas Comics library was negotiated by Stephen R. Stern (counsel to Nemesis/Jason Goodman) and Karol.