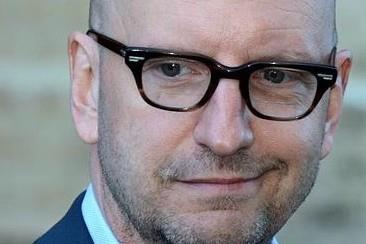 Oscar-winner Steven Soderbergh will head a Directors Guild Of America (DGA) taskforce to ascertain when it is safe to return to work.
The filmmaker, whose 2011 thriller Contagion became one of the most requested films on demand during the early stages of the coronavirus lockdown in the US, will lead the Guild's national board committee and liaise with epidemiologists and sister guilds before making its recommendations.
The development comes on the same day the White House released a three-step plan on reopening the US economy.
The statement released on Thursday (16) by DGA president Thomas Schlamme and national executive director Russell Hollander appears below.
Dear Members:
First and foremost, we hope you and your loved ones are safe and healthy. As we've done periodically, we wanted to update you on the work we've been doing to keep us all protected – in the present and into the future.
A major concern we're hearing most right now is about when we'll be returning to work, and how we can be certain that it's safe to do so. Rest assured, this is something we've been spending a great deal of time thinking about as well. While we don't have an answer as to when production will resume, we are taking steps to address how we can be safe when it does happen. A National Board committee, spearheaded by Steven Soderbergh, and with members from all categories, has been appointed to do a thorough examination of the issues at hand, and to make recommendations to the Board. The committee is consulting with top epidemiologists in the field, and we will collaborate with our sister guilds and unions and the employers as we put together a comprehensive guide to help us all return safely to work.
And speaking of when we all go back to work, a second National Board committee has been appointed to focus on preserving the communal theatrical experience so that when it is safe to do so, your feature films intended to be seen on a big screen will have that opportunity. The committee, comprised of feature film directors, assistant directors and unit production managers will begin working now to examine ways to promote that safe return to theatrical exhibition that's so important for our culture and our art.
Simultaneous to our planning for tomorrow – we continue to act with tremendous urgency in the here and now to get members through today.
We know that health coverage is weighing heavy on your minds as production remains suspended. Which is why the DGA-Producer Pension and Health Plans trustees just unanimously voted to offer three months of premium-free COBRA coverage for participants losing eligibility July 1. They're also allowing the deferral of dependent premiums due at the beginning of April to July 1st. And as another stream of relief for members hurting financially, the Plans just announced they are temporarily allowing participants to take hardship loans from their Supplemental Benefit Plan. More information is available on the DGA Plans website: www.dgaplans.org.
These changes are in addition to all our ongoing work we've mentioned in prior letters. Those efforts include: keeping our members still working in news safe and protected; fighting for your compensation; fast-tracking residuals so that you can quickly benefit from this well-earned source of income; providing leniency on dues to those members who need it; building on our work with sister Guilds and unions for additional federal and state relief for our members; and expanding member aid through a new COVID-19 Emergency Relief Fund from the Directors Guild Foundation.
As we all keep focused on today and tomorrow, we hope we can also find some comfort and solace in our yesterdays. Both in having the backing and foundation of a Guild that's over 80 years strong – and also in knowing that our work done up to this point is keeping people entertained and engaged, and possibly even lifting some spirits the world over. That need isn't going anywhere. And when the time is right, we will go back to work, return to set, and do what we love…tell stories.
Until then, keep checking the coronavirus section of our website, accessible directly from our homepage at www.dga.org, for the latest developments.
We hope you continue to be safe as we continue our work fighting for you, navigating every decision with kindness and compassion.
Thomas Schlamme
President
Russell Hollander
National Executive Director