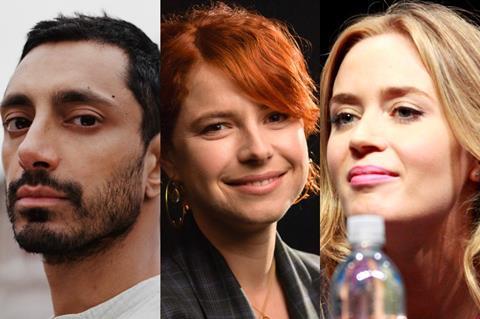 Streaming giants have struck a pair of heavyweight worldwide deals on packages in Cannes, with Netflix swooping for Emily Blunt drama Pain Hustlers and Apple snapping up Riz Ahmed and Jessie Buckley sci-fi romance Fingernails.
Both transactions are understood to have closed on Saturday night (May 21). In the case of Pain Hustlers, the deal reportedly in the $50m region puts paid to early thinking here that Netflix would be shy to get its wallet out after a punishing first quarter subscriber loss and precipitous market cap drop.
However the acquisitions team was on the ground from the outset looking for opportunist buys and wasted little time transacting with The Veterans and CAA Media Finance on Pain Hustlers, in which Blunt will star for David Yates as a high school drop-out who joins a pharmaceutical start-up and gets embroiled in a criminal conspiracy. A production start has been scheduled for August.
Apple's buy on Fingernails marks its first major film move since the streamer won best picture Oscar in late March with CODA. Fingernails centres on a mysterious institute that claims to have a product that determines whether a couple is truly in love.
CAA Media Finance and WME Independent negotiated the deal with FilmNation, who produces alongside Cate Blanchett, Coco Francini and Andrew Upton from Dirty Films and will serve as the studio for the feature, which is set to begin production later this year. Jerome Duboz is executive producer.
Fingernails marks the English-language directing debut of Christos Nikou, whose Apples premiered at 2020 Venice Film Festival and was the Greek Oscar submission.