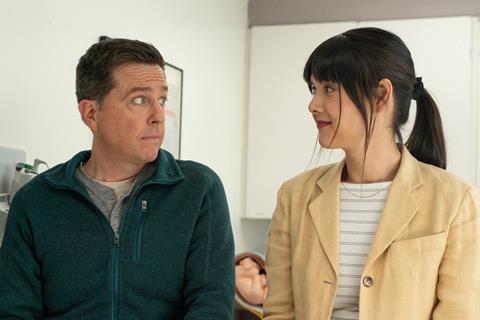 While there hasn't been the usual post-opening weekend torrent of Sundance deals this year, business is getting done and Apple delivered a record $25m buy on feel-good multi-award winnerCODA.
Sundance always has a long tail and deals will trickle in for weeks and months after the event, which officially ends on February 3.
At time of writing buyers were circling Questlove's documentary Summer Of Soul, Sean Ellis's werewolf film Eight For Silver, Franz Kanz's post-shooting massacre drama Mass, and Lyle Mitchell Corbine Jr.'s thriller Wild Indian, among others.
Sundance deals to date, in alphabetical order:
Ailey
Neon picked up Jamila Wignot's US Documentary Competition entry Ailey, about dancer and choreographer Alvin Ailey.
CODA
In a $25m Sundance record, Apple picked up the world on Siân Heder's U.S. Dramatic Competition grand jury and audience award winner. The film also won the U.S. Dramatic Special Jury Award for Ensemble Cast, and Directing Award: U.S. Dramatic.
Cryptozoo
Magnolia Pictures took North American rights to Dash Shaw's Next Innovator Prize winner, an animation hybrid about the battle over a sanctuary for fantastic beasts. Match Factory holds international rights to the film, rumoured to be in the Berlinale line-up.
Flee

Neon acquired North American rights to Jonas Poher Rasmussen's World Cinema Grand Jury Prize: Documentary winner. This week, Participant came on board to co-distribute. Cinephil closed international sales with the UK, France, and Australia.
Jockey

Sony Pictures Classics pounced on worldwide rights to Clint Bentley's entry starring Clifton Collins Jr, winner of the U.S. Dramatic Special Jury Award for Best Actor, as an ageing race jockey out to win one last title. ICM Partners represented US rights and Films Boutique handled international sales.
Luzzu
Kino Lorber acquired North America and Memento Films International licensed territories
Ma Belle, My Beauty
Good Deed Entertainment picked up North American rights to Marion Hill's queer polyamorous romance that won the Next audience award.
The Most Beautiful Boy In The World
Films Boutique licensed UK rights to Dogwoof on Word Cinema Documentary selection.
My Name Is Pauli Murray
Amazon Studios acquired worldwide rights.
On The Count Of Three
Annapurna Pictures paid around $2m for North America on the drama and will distribute and market with a partner to be announced, likely to be MGM's Orion Pictures.
Passing
Netflix paid $15m for worldwide rights to Rebecca Hall's period drama.
Playing With Sharks
National Geographic Documentary Films acquired the world on Sally Aitken's World Cinema Documentary Competition entry Playing With Sharks, about Australian marine conservationist Valerie Taylor.
Pleasure
A24 picked up US rights to Ninja Thyberg's Sundance World Cinema Dramatic competition and Cannes Label selection.
Rita Moreno: Just A Girl Who Decided To Go For It
Roadside Attractions has acquired North American rights excluding TV to the U.S. Documentary Competition selection.
The Sparks Brothers
Focus Features acquired worldwide rights.
Summer Of Soul
Searchlight Pictures to release festival-winning documentary with Hulu.
Superior
Visit Films acquired international sales rights to Erin Vassilopoulos's U.S. Dramatic Competition selection, a retro noir about twin sisters in peril. CAA represents US rights.
Together Together
LevelFilm picked up Canadian rights to Nikole Beckwith's Ed Helms comedy in U.S. Dramatic Competition.
We're All Going To The World's Fair

Utopia picked up international sales rights and US theatrical rights, and HBO Max has taken US streaming rights to the unsettling coming-of-age story from Jane Schoenbrun starring Anna Cobb.
Closed prior to the festival
A Glitch In The Matrix
Magnolia Pictures acquired worldwide rights to Rodney Ascher's Midnight selection.
The Most Beautiful Boy In The World
Juno Films acquired North American rights to the World Cinema Documentary Competition entry from Kristina Lindström and Kristian Petri. Films Boutique handles international sales.
Prisoners Of The Ghostland

RLJE Films picked up North American rights to genre auteur Sion Sono's first English-language film starring Nicolas Cage as a bank robber on a do-or-die rescue mission. XYZ Films will launch international sales in the run-up to the virtual EFM.
Together Together

Bleecker Street picked up North American rights to the U.S. Dramatic Competition comedy starring Ed Helms.