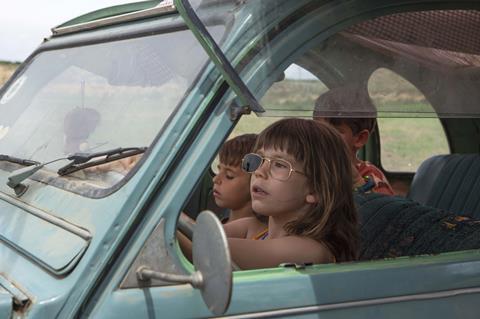 Sydney Film Festival (June 8-19) has revealed the 12 titles that will play in competition at its 69th edition.
The titles include Carla Simon's Catalan family drama Alcarràs, which won the Golden Bear at the Berlinale in February; Colm Bairéad's Irish-language drama The Quiet Girl, which took the grand prize in Berlin's Generation Kplus strand; and Alejandro Loayza Grisi's Bolivian eco-drama Utama, winner of the grand jury prize at Sundance in January.
Scroll down for full list of titles
The sole documentary in the line-up is Sara Dosa's Fire of Love, an archival portrait of married volcanologists who died following an eruption on Japan's Mount Uzen in 1991.
The two Australian titles in competition are both feature directorial debuts and comprise Del Kathryn Barton's much anticipated Blaze, which combines live action with animation and puppetry; and Goran Stolevski's You Won't Be Alone, which premiered at Sundance and stars Noomi Rapace as a shape-shifting witch. Blaze will previously received its world premiere at Tribeca on June 9.
The competition titles, revealed during the festival's programme launch today by festival director Nashen Moodley, will vie for the Sydney Film Prize, which includes A$60,000 ($42,000). This year marks the 14th time the prize has been offered and an international jury will judge the films against the criteria "audacious, cutting-edge and courageous".
At the launch this morning, Moodley alluded to the tensions of running a festival: the programme went to the printer last Tuesday, less than 24 hours after it was confirmed that Belgian director Lukas Dhont's Close could be included in the competition.
The festival said at least six of the directors will be at the festival in person.
Nine documentaries will compete for the A$10,000 ($7,000) Documentary Australia Award. World premieres in this section include Penelope McDonald's Audrey Napanangka, Jason van Genderen's Everybody's Oma, Karl Malakunas' Delikado, Luke Cornish's Keep Stepping and Brodie Poole's General Hercules.
Further contenders are Maya Newell's The Dreamlife Of Georgie Stone, Adrian Di Salle's Polenta, Jessica Barclay Lawton's The Sweetness and Simon Target's Warrawong… The Windy Place On The Hill.
Three Australian features set to world premiere during SFF include Macario De Souza's 6 Festivals, Rowan Devereux's Evicted! A Modern Romance and Molly Haddon's The Longest Weekend as well as Australia-New Zealand co-productions Nude Tuesday, directed by Armağan Ballantyne, and opening night anthology film We Are Still Here. Karan Gour's Indian magical realist drama Fairy Folk will also debut at the festival.
The programme also includes a First Nations strand, the seventh annual Europe! Voices of Women in Film selection and 10 films by Satyajit Ray, selected by critic David Stratton.
In addition, the festival hosts short film competition the Dendy Awards, which has been running for 53 years.
Moodley and his team have compiled this year's festival in six months. June is Sydney's traditional spot in the festival calendar but the previous edition was held in November after two date changes as a result of Covid-19 restrictions.
Sydney Film Festival 2022 competition titles
Alcarràs (Sp-It)
Dir. Carla Simón
All The People I'll Never Be (Fr-Bel-Ger)
Dir. Davy Chou
Before, Now And Then (Indo)
Dir. Kamila Andini
The Box (Mex)
Dir. Lorenzo Vigas
Burning Days (Turkey-Fr-Ger-Neth-Greece-Cro)
Dir. Emin Alper
Blaze (Australia)
Dir. Del Kathryn Barton
Close (Bel-Fr-Neth)
Dir. Lukas Dhont
Fire Of Love (US-Can)
Dir. Sara Dosa
Godland (Den-Ice-Fr-Swe)
Dir. Hlynur Pálmason
The Quiet Girl (Ire)
Dir. Colm Bairéad
Utama (Bol-Fr-Uru)
Dir. Alejandro Loayza Grisi
You Won't Be Alone (Australia)
Dir. Goran Stolevski