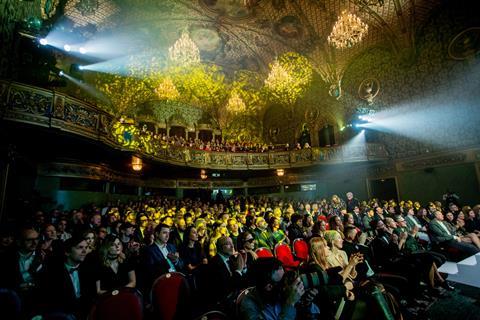 Estonia's Tallinn Black Nights Film Festival (Nov 11- 27) has announced the complete line-up for its competition strand, adding eleven titles to the previously announced eight.
Films having their world premiere at Tallinn include the Greek-French-Latvian co-production Still River by director Angelos Frantzis; Sunburn, a Portuguese production by director Vicente Alves do Ó, which was presented at the Locarno IFF's First Look showcase this summer; and Indian-born filmmaker Partho Sen-Gupta's third film Slam. His last films Let The Wind Blow and Sunrise have screened at the Berlinale, the Busan IFF, Tribeca and London.
Among the international premieres is Kadakh from Indian filmmaker Rajat Kapoor, despite the sexual harassment allegations made against him earlier this month.
Kapoor was accused of inappropriate behavior by three women, according to the Hindustan Times. He apologized on Twitter, saying: "All my life I have tried to be a decent man, to do the right thing. If however, I have slipped and through my actions or words caused pain or hurt or trauma to absolutely anybody, please accept my apology." Kadakh was withdrawn from the Mumbai IFF as a result of harassment accusations.
Addressing the controversy in a statement, Tallinn's festival director and head of programming Tiina Lok said: "We are fully supporting Mumbai in their decision to exclude Mr Kapoor's film from their programme as a result of the surfaced accusations. We are also supporting all the victims of sexual misconduct in any country or situation, male or female, not only those brought to light by the MeToo movement. And equally, we fully condemn the perpetrators, who we believe should undergo a legitimate trial and be punished accordingly."
"But the case in question, from as much as we know, has for now reached a conclusion with a clear apology by Mr Kapoor. If the allegations are true, his behaviour was certainly not a nice way for anyone to act and should not be tolerated by anybody. However, in its present state, based on all the information I have learned from the media sources, I don't see enough reasons to pull his film out of the programme and help end the journey of the film or support declaring him a total persona non grata."
Other films announced include the international premiere of German director Josef Biercbichler's Two Men in Suits, the European premiere of Asandhimitt from Sri Lankan director Asoka Handagama and Winter's Night from South Korea's Woo-jin Jang.
This year's Tallinn Black Nights will open with Awaken, a study of man's relationship with technology and the natural world directed by Tom Lowe and with Terrence Malick amongst its executive producers.
The festival will also run a Baltic Film Competition for the first time this year, screening titles from Latvia, Lithuania and Estonia.
The full line-up of new titles is below:
Asandhimitta (Sri Lanka) dir. Asoka Handagama
AWAKEN (Estonia) dir. Tom Lowe
Kadakh (India) dir. Rajat Kapoor
Sheeple (Iran) dir. Hooman Seyedi
Slam (Australia) dir. Partho Sen-Gupta
Still River (Greece) dir. Angelos Frantzi
Sunburn (Portugal) dir. Vicente Alves do Ó
The Story of a Summer Lover (Romania) dir. Paul Negocescu
Two Men in Suits (Germany) dir. Josef Biercbichler
Werewolf (Poland) dir. Adrian Panek
Winter's Night (South Korea) dir. Woo-jin Jang