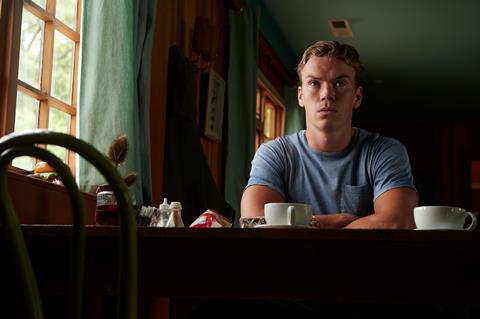 Estonia's Tallinn Black Nights Film Festival (November 12-28) has unveiled the 20 titles in its First Features Competition, which includes the world premiere of Malachi Smyth's UK heist musical The Score.
Naomi Ackie, Johnny Flynn and Will Poulter star in Smyth's debut feature, in which two small-time crooks consider their future while awaiting a big 'score' at a roadside cafe. The film, shot entirely during the pandemic, is sold internationally by WestEnd Films.
It is one of 10 debut films that will world premiere in Black Nights' First Feature Competition strand.
Scoll down for full list of titles
They include UK feature Alice, Through The Looking: À La Recherche D'un Lapin Perdu from composer-turned-director Adam Donen – a surreal reimagining of Lewis Carroll's Alice In Wonderland set in post-Brexit London. It is narrated by Vanessa Redgrave with a cast that includes philosopher Slavoj Zizek, Steven Berkoff and newcomer Saskia Axten in the title role.
Further world premieres include The Cloud And The Man, from Indian writer-director Abhinandan Banerjee, which centres on a recently-bereaved man and his unexpected relationship with a cloud; and Who Is Sleeping In Silver Grey, from Chinese filmmaker Liao Zihao, in which a young music teacher loses her job following an affair and is relocated to an isolated island whose inhabitants cannot speak.
Dovile Sarutyte's Lithuanian drama Feature Film About Life premieres at Black Nights after taking part in Industry@Tallinn and Baltic Event's Works in Progress programme in 2020. It follows a woman who is faced with organising a funeral for her father without any professional help.
International premieres include Her Way, from French filmmaker Cécile Ducrocq, whose short Back Alley won the Small Golden Rail award at Cannes in 2014 and the Cesar for best short. Ducrocq's debut feature reunites her with actress Laure Calamy, who starred in Back Alley and is known for her role in hit series Call My Agent.
In Her Way, Calamy plays a sex worker who needs to make extra money quickly when her income cannot cover her son's education. The drama debuted at Deauville Film Festival last month.
Black Nights' First Features Competition includes a best film prize, which comes with a €5,000 ($5,778) grant shared by the director and producer, as well as two special jury prizes.
The full lineup of the 25th Tallinn Black Nights will be announced in early November.
First Feature Competition 2021
Alice, Through the Looking: À La Recherche D'un Lapin Perdu (UK)
Dir. Adam Donen
Blind Love (Kenya-Switz)
Dir. Damien Hauser
The Cloud And The Man (India)
Dir. Abhinandan Banerjee
Dark Heart Of The Forest (Bel-Fr)
Dir. Serge Mirzabekiantz
Dozen Of Norths (Jap)
Dir. Koji Yamamura
Feature Film About Life (Lith)
Dir. Dovilė Šarutytė
Her Way (Fr)
Dir. Cécile Ducrocq
Immersion (Chile-Mex)
Dir. Nicolás Postiglione
Life Suits Me Well (Mor)
Dir. Al Hadi Ulad-Mohand
Occupation (Czech Rep)
Dir. Michal Nohejl
Other Cannibals (Ger-It)
Dir. Francesco Sossai
Other People (Pol-Fr)
Dir. Aleksandra Terpińska
Precious Ivie (Ger)
Dir. Sarah Blaßkiewitz
The Radio Amateur (Sp)
Dir. Iker Elorrieta
The Red Tree (Col-Pan-Fr)
Dir. Joan Gómez Rojo
The Score (UK)
Dir. Malachi Smyth
Tenzin (Can)
Dirs. Michael LeBlanc, Joshua Reichmann
Troubled Minds (Lat-Pol)
Dirs. Raitis Ābele, Lauris Ābele
Who Is Sleeping In Silver Grey (China)
Dir. Liao Zihao
Zuhal (Turk)
Dir. Nazli Elif Durlu