Corneliu Porumboiu's The Whistlers and Terrence Malick's A Hidden Life are the latest titles to bed down on Screen's Cannes 2019 jury grid, with both films receiving the same average of 2.5.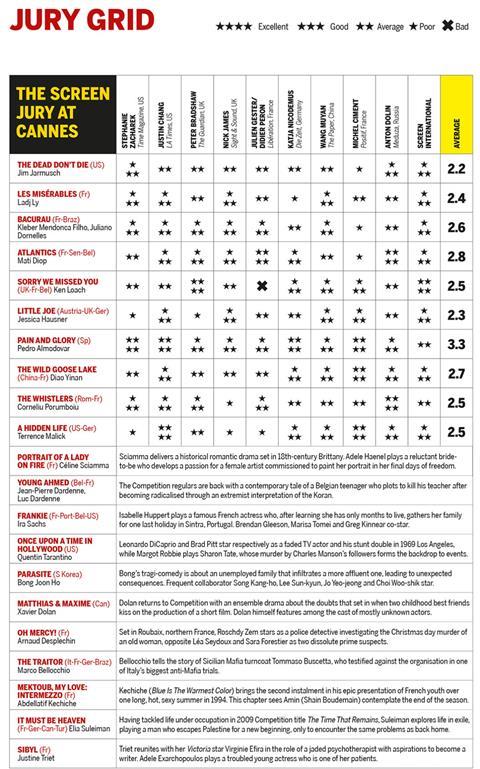 Porumboiu recorded consistent scores across his 10 marks, with four threes (good) and four twos (average) broken only by a four (excellent) from Meduza's Anton Dolin and a one (poor) from Sight And Sound's Nick James.
The Whistlers stars Vlad Ivanov as a corrupt cop who gets involved in a high-stakes heist, using the secret whistling language spoken on the Spanish island of La Gomera.
The film is Porumboiu's first Competition title at Cannes; he previously won the Un Certain Talent prize in Un Certain Regard for Treasure in 2015.
Veteran director Malick split opinion amongst the jury critics for his 2.5 average. Two critics – the LA Times Justin Chang and Positif's Michel Ciment – went for a top score four; however three – Time's Stephanie Zacharek, Sight And Sound's Nick James and Libération's Julien Gester and Didier Peron – went for a much lower one.
August Diel stars in A Hidden Life, the true tale of an Austrian farmer who was a conscientious objector in the Second World War. Matthias Schoenaerts, Michael Nyqvist and Bruno Ganz round out the cast.
It is Malick's third appearance in Competition at the festival, after Days Of Heaven in 1979; and The Tree Of Life, which won the Palme d'Or in 2011, and scored a decent 2.8 on Screen's jury grid, beaten only by the Dardennes brothers' The Kid With A Bike (3.1), Aki Kaurismäki's Le Havre (3.2) and Nuri Bilge Ceylan's Once Upon A Time In Anatolia (3.3).
Make sure to get the scores for Porumboiu and Malick up on your Screen jury grid poster – and share it with us at @screendaily on Twitter, Facebook and Instagram, with the grid image available to print here.
Next up on the grid: Portrait Of A Lady On Fire, Céline Sciamma's first feature since Girlhood; and Jean-Pierre and Luc Dardennes, back in Competition again with Young Ahmed.