Director celebrates wrapping production on the long delayed project.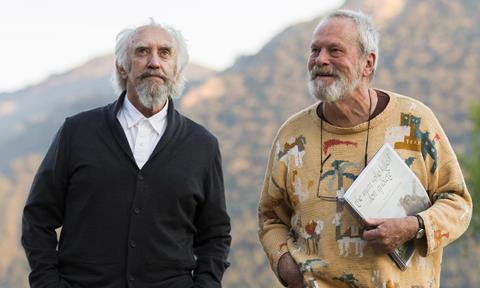 Terry Gilliam has finished shooting The Man Who Killed Don Quixote after struggling to make the film for nearly 20 years.
In a celebratory Facebook post, the director said: "Sorry for the long silence. I've been busy packing the truck and am now heading home. After 17 years, we have completed the shoot of THE MAN WHO KILLED DON QUIXOTE. Muchas gracias to all the team and believers. QUIXOTE VIVE!"
Gilliam later said in a statement: ""Don Quixote is a dreamer, an idealist, and a romantic, determined not to accept the limitations of reality, marching on regardless of setbacks, as we have done. We've been at it so long that the idea of actually finishing shooting this "clandestine" film, is pretty surreal. Any sensible person would have given up years ago but sometimes pig-headed dreamers win in the end, so thank you to all of the ill paid fantasists and believers who have joined to make this longstanding dream a reality!''
Gilliam's first troubled attempt to make a Don Quixote film was in 1998 with Johnny Depp. It was cancelled mid-shoot after a series of on-set and financial problems, which were chronicled in the 2002 documentary Lost In La Mancha.
The cast includes The Force Awakens star Adam Driver, Jonathan Pryce as Don Quixote (pictured top with Gilliam), Olga Kurylenko (Quantum of Solace, Oblivion), Stellan Skarsgård (Melancholia) and Joana Ribeiro.
The film, scripted by Gilliam and Tony Grisoni, tells the story of a deluded old man who is convinced he is Don Quixote, and who mistakes Toby, an advertising executive, for his trusty squire, Sancho Panza. The pair embark on a bizarre journey, jumping back and forth in time between the 21st and magical 17th century. Gradually, like the infamous knight himself, Toby becomes consumed by the illusory world and unable to determine his dreams from reality.
Shooting took place in the the Canary Islands, the historical city of Tomar, Lisbon and Castilla-La Mancha in Spain.
Gerardo Herrero, Mariela Besuievsky, Amy Gilliam, Tornasol Films, Kinology, Recorded Picture Company, Entre Chien et Loup and Ukbar Filmes in association with Alacran Pictures, are producing with the participation of TVE, Movistar +, Eurimages and Wallimage. Kinology is handling worldwide sales. Amazon Studios has acquired distribution rights for the US, Canada and the UK, and Telemunchen for Germany and Austria.
So far, no release date has been announced.