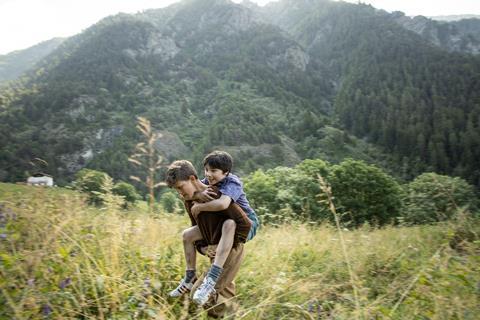 Italian-language drama The Eight Mountains dominated the winners at Italy's David di Donatello awards on Wednesday, May 10.
The film, from Belgian directors Felix van Groeningen and Charlotte Vandermeersch, received four awards: best film, best adapted screenplay, best photography and best sound.
Scroll down for the full list of winners
Based on Paolo Cognetti's novel of the same name, the film follows two men from different backgrounds in a remote mountain village, as their relationship develops from childhood through to adulthood.
It won the Jury Prize when it debuted in Competition at Cannes last year.
Vandermeersch is only the second woman to win the best film award, after Francesca Archibugi, who took it in 1991 and 1993 for Verso Sera and The Great Pumpkin respectively.
Roberto Ando's comedy-drama Strangeness also picked up four awards: best original screenplay, best producer, best art director and best costume design.
Marco Bellocchio won his third best director prize at the awards, for his six-episode series Exterior, Night, about the 1978 kidnapping and assassination of former Italian prime minister Aldo Moro.
"I didn't expect it, I'm telling the truth, but I accept it. At my age you become wise. The important thing is not to stop. I wish I still had time to do things," said Bellocchio, who turns 84 later this year.
The best international film prize went to Ruben Ostlund's Palme d'Or winner Triangle Of Sadness; while Isabella Rossellini, Enrico Vanzina and producer Marina Cicogna were given honorary awards.
The David di Donatello Academy consists of 1,600 film professionals, who vote for the annual awards.
David di Donatello 2023 awards
Best director – Marco Bellocchio, Exterior, Night
Best directorial debut – Giulia Louise Steigerwalt, September
Best original screenplay – Strangeness, Roberto Ando, Ugo Chiti, Massimo Gaudioso
Best adapted screenplay – The Eight Mountains, Felix van Groeningen, Charlotte Vandermeersch
Best actress – Barbara Ronchi, September
Best actor – Fabrizio Gifuni, Exterior, Night
Best supporting actress – Emanuela Fanelli, Dry
Best supporting actor – Francesco di Leva, Nostalgia
Best producer – Angelo Barbagallo, Bibi Film; Attilio de Razza, Tramp Ltd, Strangeness
Best cinematography – Reuben Impens, The Eight Mountains
Best composer – Stefano Bollani, Il Pataffio
Best art director – Giada Calabria, Loredana Raffi, Strangeness
Best costume design – Maria Rita Barbera, Strangeness
Best makeup – Enrico Iacoponi, Exterior, Night
Best hair – Desiree Corridoni, The Shadow Of Caravaggio
Best editing – Francesca Calvelli with Claudio Misantoni, Exterior, Night
Best sound – Alessandro Palmerini, Alessandro Feletti, Marco Falloni, The Eight Mountains
Best special effects – Marco Geracitano, Dry
Best international film – Triangle Of Sadness, dir. Ruben Ostlund