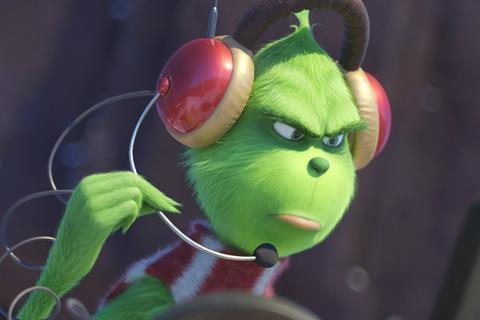 | | | | | |
| --- | --- | --- | --- | --- |
| Rank | Film / Distributor | Three-day gross (Nov 9-11) | Gross | Week |
| 1 | The Grinch (Universal) | £5m | £5m | 1 |
| 2 | Bohemian Rhapsody (20th Century Fox) | £4.5m | £29m | 3 |
| 3 | Widows (20th Century Fox) | £1.6m | £2.4m | 1 |
| 4 | A Star Is Born (Warner Bros) | £1.2m | £25.4m | 6 |
| 5. | The Nutcracker And The Four Realms (Disney) | £1.1m | £3.4m | 2 |
Today's GBP to USD conversion rate: 1.29.

Universal
3D family animation The Grinch has dislodged Bohemian Rhapsody from the number one slot at the top of the UK box office, taking £5m from its first three days.
Playing in 561 sites, the film scored a decent average of £8,956. It achieved Universal's best opening in the UK since Mamma Mia! Here We Go Again started with a £9.7m three-day weekend in July this year.
It also surpasses the £3m opening for Ron Howard's live-action The Grinch starring Jim Carrey (called How The Grinch Stole Christmas in the US) in 2000, although the two figures are almost identical when taking into account inflation.
Universal holdovers Johnny English Strikes Again put on £467,812 over Friday-Sunday to reach £17m; franchise horror title Halloween added £226,824 to hit £8.7m; and Neil Armstrong biopic First Man advanced £114,546 across three days to gross £7.6m to date.
20th Century Fox
Steve McQueen's heist thriller Widows opening weekend grossed £1.6m with a £2,878 site average from 573 locations. With three days of previews last week after a Tuesday launch, its total cume is £2.4m.
This puts it slightly behind McQueen's 2014 Oscar-winner 12 Years A Slave, which opened with £2.5m from 207 sites in January of that year including £41,000 of previews. Fox will be hoping Widows can achieve a similarly lengthy tale, with 12 Years going on to take £20m in the UK.
Queen rock biopic Bohemian Rhapsody drops to second spot in the chart in its third week, taking £4.5m across the weekend for a soft 21% drop and £29m cume.
Compared to Mamma Mia! Here We Go Again, another 2018 music success story, it is below the £39.3m total of that film after three weeks, but has again dropped less across the same time period, and its £4.5m is more than the £4.1m the ABBA film took on its third weekend.
Rhapsody also increased its number of locations to 690, a high across its run.
Teen drama The Hate U Give dropped 61% to take £76,802 over the weekend, for a £1.6m total.
Paramount
D-day war horror Overlord, produced by J.J. Abrams and Lindsey Weber, took £480,000 across 421 sites for a £1,140 average across the weekend. Adding in £200,000 of previews, the title is now up to £680,000.
Warner Bros.
Peter Jackson's WWI documentary They Shall Not Grow Old, featuring restored footage of soldiers in the trenches, opened to £263,000. The film also played on BBC Two on Sunday evening at 9.30pm, as part of the commemoration of 100 years since the end of the war.
A Star Is Born sang its way to £1.2m across the weekend. A 32% drop is its biggest so far, but after six weeks a £25.4m cume is very healthy, and Warner Bros will look for it to hit £30m and beyond in coming weeks. It has now broken into the top 10 highest-grossing titles in the UK in 2018.
Up against the opening of The Grinch, Smallfoot dropped 69% to take £353,000, and has £10.6m after five weeks.
Disney
The Nutcracker And The Four Realms dropped 36% on its second weekend for £1.1m. It has grossed £3.4m after 10 days and will look for a boost in the run up to the Christmas period.
Sony
Goosebumps 2: Haunted Halloween took £243,000 at the weekend and has £7.4m so far. Blockbuster Venom added £188,000 to reach £19.9m; Hotel Transylvania 3 added £43,000 to hit £20m; while boarding school comedy horror Slaughterhouse Rulez added £23,000 on its second weekend for a £558,000 cume.
Yash Raj Films
Opening on Thursday November 8, Hindi language action adventure Thugs Of Hindostan took £459,257 from 280 2D venues, plus a further £33,191 from 27 iMAX screens for a four-day opening of £492,448.
Kaleidoscope Home Entertainment
Paul Dano's directorial debut Wildlife opened on 55 screens, taking £72,000 including previews.
Entertainment One
Mike Leigh's historical drama Peterloo fell 45% on its second weekend, taking £150,264, and is up to £725,539 to date.
Fantasy title A House With A Clock In Its Walls added £11,842 and is up to £8.3m.
Curzon
Cold War added £5,117 and is at £1.1m, while Dogman put on £5,534 and is at £164,875.
Vertigo
Michael Moore's Fahrenheit 11/9 took £3,840 over the weekend, and in the week following the US elections is up to £120,947.
Picturehouse
The Wife starring Glenn Close added £9,082 on its seventh weekend, and is now up to £1.6m.