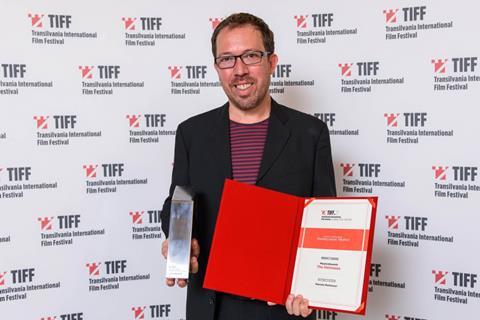 Marcelo Martinessi's feature debut The Heiresses received the Transilvania Trophy at the closing ceremony of the 17th Transilvania International Film Festival (TIFF, 25 May – 3 June) in Romania's Cluj-Napoca.
The main competition jury, which included filmmakers Ágnes Kocsis and Dagur Kari and actor Vlad Ivanov, praised Martinessi for his "sublime direction" and "the captivating rhythm of his narrative".
Accepting the trophy and the €15,000 ($17,582) cash prize on stage of the National Theatre from international opera star Angela Gheorghiu, Martinessi said that this award would be further encouragement for Paraguayan filmmakers following the news that his government has introduced legislation for the establishment of a film institute and film fund.
The Heiresses - which had its world premiere at this year's Berlinale competition where it won a Silver Bear for best actress and the Alfred Bauer Prize and the FIPRESCI Award – was also a winner on Saturday night at another film festival further east – Kiev's Molodist – picking up the main prize for best LGBTQ film in its Sunny Bunny competition programme.
Meanwhile, Hlynur Pálmason sent a video message from Iceland where he is in preproduction on his next feature to thank the jury for awarding him its best directing award for his debut Winter Brothers, while the Special Jury Award was shared between The Home by Asghar Yousefinejad and Anna Kruglova's graduation film Scythe Hitting Stone from Cologne's Academy of Media Arts (KHM)
Spanish director Carlos Marques-Marcet leapt on stage to accept the jury's best performance award on behalf of his actors Natalia Tena, Oona Chaplin and David Verdaguer for his second feature Anchor And Hope.
Other awards included the FIPRESCI Prize for Austrian filmmaker Ruth Mader's Life Guidance, the audience award to Danish director Gustav Möller's minimalist thriller The Guilty (which will be released by Bad Unicorn in Romanian cinemas on 9 November), as well as lifetime achievement awards to actresses Fanny Ardant and Anna Széles and this year's excellence award to Romanian acting legend Dan Nutu.
The awards ceremony was also used by one jury member as an opportunity to remind the audience of the fate of the Ukrainian director Oleg Sentsov, who has now entered into the 22nd day of his hunger strike in a Russian prison, and they were encouraged to support the European Film Academy's campaign calling for Sentsov's release.
Romanian Days
This year's Berlinale Golden Bear winner Touch Me Not by Adina Pintilie was given a special mention by the Romanian Days feature film jury who gave their main award to Constantin Popescu's Pororoca and the award for best debut to Ivana Mladenovic's Soldiers. Story From Ferentari.
Saturday evening' awards ceremony at the National Theatre also saw a raft of awards to projects presented at TIFF's industry programme, the fifth edition of Transilvania Pitch Stop (TPS).
The pitching of 15 projects from Romania, Moldova, Turkey, Russia, Georgia, Serbia and Hungary had attracted representatives from film festivals as Berlin, Gothenburg, Wroclaw, Wiesbaden, Cottbus, Tallinn among others.
A jury including producer Cedomir Kolar and sales agent Nadia Turincev awarded this year's €20,000 ($23,458) Eurimages Co-Production Development Award to Serbian director Pavle Vuckovic's feature Frost, which already has France's 2017Films and Macedonia's DNF Films onboard.
Meanwhile, Chainsaw Europe's award of postproduction services worth €25,000 ($29,322) and a cash prize of €5,000 ($5,864) went to Hungarian co-directors Nándor Lörincz and Bálint Nagy's The Last Bus, which will be produced by Filmpartnes Ltd. with M&M Film, the producer of Ildikó Enyedi's Golden Bear winner On Body And Soul. A €5,000 ($5,864) cash prize donated by Romania's National Centre of Cinematography went to Moldovan actor-director Anatol Durbala for his second feature Santa Barbara.
In addition, this year's Connecting Cottbus Award went to Cluj-born filmmaker Cristian Pascariu to enable him to pitch his feature debut October at the German East-West co-production market at the beginning of November, while writer-director Mihai Mincan was selected to develop his feature project To The North as part of the Villa Kult residency during next year's Berlinale.
Industry programme workshops
At the industry programme, TIFF joined forces with Europa Cinemas, the Film ETC. Association and the Association of Municipalities in Romania to discuss establishing a network of arthouse cinemas through Romania.
"We live in a paradox," Film ETC.'s president and former Culture Minister Corina Suteu observed. "We have a wonderful cinema, but our cinema infrastructure is the poorest in Europe. We tried to solve this centrally, but at the local level we can generate the best situation for Romanian cinema."