Screen has launched its jury grid for the 2019 Berlinale 2019 Competition films, with Lone Scherfig's The Kindness Of Strangers scoring a middling 1.6 average from the eight grid critics.
Participating critics on the grid for this year are:
Nicholas Wennö, Dagens Nyheter, Sweden
Verena Lueken, Frankfurter Allgemeine, Germany
Anton Dolin, Film Art, Russia
Katja Nicodemus, Die Zeit, Germany
Wang Muyan, The Paper, China
Rita Di Santo, The Morning Star, UK
Paolo Bertolin, Segnocinema, Italy
Screen's own critic
As in previous years, each critic watches each Competition film and awards a star rating on the following scale: four (excellent), three (good), two (average), one (poor), zero (bad).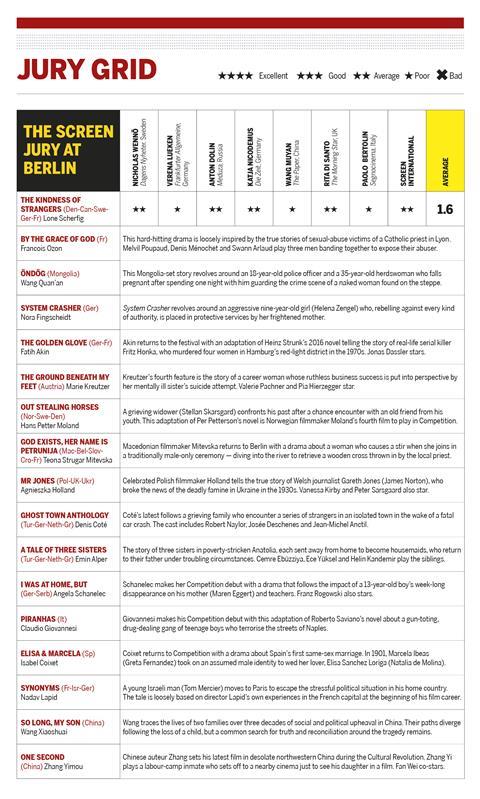 Lone Scherfig's festival opener achieved a mid-to-low 1.6 average, with 2s from each critic apart from Lueken, Wang Muyan and Bertolin who each gave it a 1.
Set in New York City, The Kindness Of Strangers follows a group of strangers who come together to find liberation through each other. Zoe Kazan, Tahar Rahim, Bill Nighy, Andrea Riseborough, Caleb Landry Jones and Jay Baruchel lead the cast.
Next up are François Ozon's Catholic sexual abuse drama By The Grace Of God, Wang Quan'an's Mongolia-set Öndög and Nora Fingscheidt's System Crasher.
Last year's Berlin jury grid was topped by Wes Anderson's animation Isle Of Dogs with 3.3, while the jury grid from Cannes saw an all-time record score of 3.8 from Lee Chang-dong's Burning.