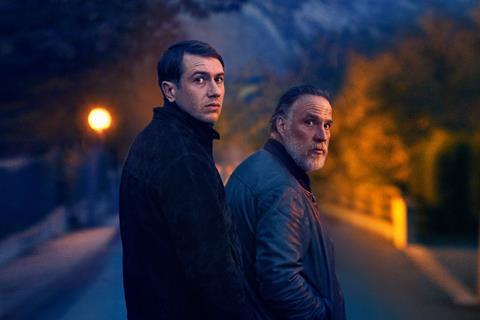 Dominik Moll's investigative drama The Night Of The 12th enjoyed a big night at France's 48th annual César Awards, picking up six awards including best film of the year at a starry ceremony at Paris concert hall l'Olympia on Friday night.
The film, which started the night on 10 nominations, prevailed in a competitive category alongside Louis Garrel's crime-infused romantic comedy The Innocent, Cédric Klapisch's dance drama Rise, Albert Serra's political thriller Pacifiction, and Valeria Bruni-Tedeschi's coming-of-age tale Forever Young.
Scroll down for full list of winners
Moll was named best director for The Night Of The 12th, winning in a controversially all-male category that had garnered nominations for Klapisch, Garrel, Serra, and Cedric Jimenez for November.
The film also earned Moll the prize for best adapted screenplay (he co-wrote with Gilles Marchand) and saw Bastien Bouillon take home the best male newcomer prize and Bouli Lanners the award for best supporting actor for their roles as police detectives. The film also won the award for best sound.
The Night Of The 12th continues its awards season sweep after winning the Best Film Lumiere award. The investigative drama explores issues of gender, violence and policing politics in France and was nominated for 10 awards. Set in Grenoble, it follows a police unit investigating a murder case. Memento International has sold the film to a slew of territories including Film Movement in the US and Picturehouse Entertainment for the UK & Ireland.
Released in July in France via Haut et Court, The Night Of The 12th sold a solid 500,000 tickets during its local run. Haut et Court's Carole Scotta and Barbara Letellier were named best producers of the year at the Academy's Daniel Toscan du Plantier Prize mid-February ceremony.
The Innocent began the night as the frontrunner on 11 nods and won prizes for best original screenplay and a best supporting actress prize for star Noémie Merlant.
While this year's best film nominations drew criticism after not one female filmmaker was nominated in the category, most of the winning films were also 2022 box office success stories in a rare twist for the country's film academy, which has traditionally honoured more arthouse, less audience-friendly fare known as "the cultural exception".
Virginie Efira was named best actress for her role in Alice Winocour's post-terrorist attack trauma drama Paris Memories. Efira also stars in Rebecca Zlotowski's Other People's Children, a critical and box office hit that premiered in Venice that was snubbed across the board by the Academy. Efira thanked both Winocour and Zlotowski on stage during her acceptance speech.
In the best actor category, Pacifiction star Benoit Magimel won for the second year in a row following his prize-winning performance in Emmanuelle Bercot's Peaceful (De Son Vivant). Pacifiction also won for best cinematography.
France's Oscar submission and Venice-winner Alice Diop's Saint Omer failed to pick up a best film or best director nomination, but earned Diop the prize for best first film. "I'm so proud to be a part of the next generation of French cinema," Diop said upon accepting her award. She went on to cite films from other female filmmakers not nominated this year who inspired her, such as Zlotowski and Claire Denis.
Monica Bellucci presented the prize for best female newcomer to Nadia Tereszkiewicz for her performance in Forever Young. Teresziewicz is currently starring in François Ozon's The Crime Is Mine alongside fellow nominee Rebecca Marder (A Radiant Girl) and an A-list cast of Isabelle Huppert, Dany Boon and Fabrice Luchini.
Rodrigo Sorogoyen's The Beasts (As Bestas) won the prize for best foreign film following its sweep at the recent Goya awards. Eric Gravel's Full Time (A Plein Temps) took home prizes for Best Editing and Best Original Score.
Friday Night Lights
The Academy along with local broadcaster Canal Plus pulled out all the stops to attract more viewers to its 2023 ceremony and keep the tone lighter and drama-free, following the now infamous 2020 ceremony when there were protests against Roman Polanski and walk-outs, which was followed by several pandemic-plagued winters.
Like the Oscars that are hoping the likes of Tom Cruise, James Cameron and Elvis will spice up Hollywood's biggest night, all eyes were on this year's ceremony as organisers attempted to resuscitate the free-to-air live telecast broadcast on pay TV giant's Canal+'s main channel following record low ratings in 2022 (1.3million viewers).
Cesar Academy general delegate Gregory Caulier told Screen that the Academy took strides this year to make the evening "elegant and also paced a bit differently". Beloved actor Tahar Rahim presided over the ceremony and nine of the country's local stars – Leïla Bekhti, Jérôme Commandeur, Jamel Debbouze, Emmanuelle Devos, Léa Drucker, Eye Haïdara, Alex Lutz, Raphaël Personnaz and Ahmed Sylla – shared hosting duties in addition to appearances from some of France's most famous faces including Bellucci.
On-stage antics were aplenty and, despite the generally light tone, the Academy dedicated the ceremony to the people of Ukraine at the start of the evening and played a video of actress Golshifteh Farahani who gave a teary-eyed speech about the current fight for freedom in Iran. Garrel also paid tribute to Ukraine when accepting his prize for best original screenplay.
US director David Fincher made a rare public appearance to accept an honorary Cesar award for his career. Brad Pitt made a surprise appearance complete with a standing ovation to join actress Efira on stage before presenting Fincher with the award.
"I love the man with all my heart," Pitt said of the director he called "one of our greatest storytellers" and cited his well-known humility: "[A] man who is more prone to avoid the spotlight."
"My life was forever changed in '94 when I sat down for a coffee with David Fincher," Pitt said, commending the director's meticulous work ethic: "For him, everything matters at all times."
Fincher also received a long standing ovation before accepting his honour, saying "I salute the culture of French cinema – the craft and the criticism." He added that it is "a cinema that reflects who we are at our smallest and simplest and not just our aspirational heroics once we have our tights on."
Ceremony highlights included a musical performance from actress and chanteuse Charlotte Gainsbourg, nominated in the best documentary category for Jane By Charlotte, tributes to late filmmaking legend Jean-Luc Godard, actor Jean-Louis Trintignant and actor-producer Jacques Perrin.
The Césars are voted on by 4,705 members of the César academy, 44% of whom are women. Eligible films, chosen from 260 titles this year, had to be French productions released theatrically in the country in 2022. Academy voters cast their ballots up until just hours before Friday's ceremony.
Caulier said the evening was designed to be "a party where everyone is invited that will spark emotion and passion for film."
French comedian Jamel Debbouze said at the start of the ceremony, "If we're here tonight it's because we believe in cinema and we love it," an apt description of the evening that celebrated a post-pandemic comeback for the French film industry.
The fete continued into the oui hours of Saturday morning with a post-ceremony dinner for nominees at famed Parisian restaurant Fouquet's followed by a soirée titled "La Party" held at the nearby Club Haussmann with DJ Cut Killer.
48th annual Cesar Awards winners appear below in bold.
Best film
The Innocent, dir. Louis Garrel
The Night Of The 12th, dir. Dominik Moll
Pacifiction, dir. Albert Serra
Forever Young, dir. Valeria Bruni-Tedeschi
Rise, dir. Cedric Klapisch
Best director
Louis Garrel, The Innocent
Dominik Moll, The Night Of The 12th
Albert Serra, Pacifiction
Cedric Jimenez, November
Cedric Klapisch, Rise
Best actress
Fanny Ardant, The Young Lovers
Juliette Binoche, Between Two Worlds
Laure calami, Full Time
Virginie Efira, Paris Memories
Adele Exarchopoulos, Zero Fucks Given
Best actor
Jean Dujardin, November
Louis Garrel, The Innocent
Vincent Macaigne, Diary Of A Fleeting Affair
Benoit Magimel, Pacifiction
Denis Menochet, Peter von Kant
Best supporting actress
Judith Chemla, Le Sixieme Enfant
Anais Demoustier, November
Anouk Grinberg, The Innocent
Lyna Khoudri, November
Noemie Merlant, The Innocent
Best supporting actor
Francois Civil, Rise
Bouli Lanners, The Night Of The 12th
Micha Lescot, Forever Young
Pio Marmai, Rise
Roschdy Zem, The Innocent
Best female newcomer
Marion Barbeau, Rise
Guslagie Malanda, Saint Omer
Rebecca Marder, A Radiant Girl
Nadia Tereszkiewicz, Forever Young
Mallory Wanecque, The Worst Ones
Best male newcomer
Bastien Bouillon, The Night Of The 12th
Stefan Crepon, Peter Von Kant
Dimitri Dore, Bruno Reidal, Confessions Of A Murderer
Paul Kircher, Winter Boy
Aliocha Reinert, Softie
Best original screenplay
Eric Gravel, Full Time
Valeria Bruni Tedeschi, Noemie Lvovsky, Agnes de Sacy, Forever Young Cedric Klapisch, Santiago Amigorena, Rise
Louis Garrel, Tanguy Viel, Naïla Guiguet, The Innocent
Alice Diop, Amrita David, Marie Ndiaye, Saint Omer
Best adapted screenplay
Michel Hazanavicius, Final Cut
Thierry de Peretti, Jeanne Aptekman, Undercover
Gilles Marchand, Dominik Moll, The Night Of The 12th
Best original score
Irene Dresel, Full Time (A Plein Temps)
Alexandre Desplat, Final Cut (Coupez!)
Gregoire Hetzel, The Innocent
Olivier Marguerit, The Night Of The 12th
Marc Verdaguer, Joe Robinson, Pacifiction
Anton Sanko, The Passengers Of The Night
Best first film
Bruno Reidal, Confession Of A Murderer dir. Vincent Le Port
Falcon Lake dir. Charlotte Le Bon
The Worst Ones dir. Lise Akoka, Romane Gueret
Saint Omer dir. Alice Diop
The Sixth Child dir. Leopold Legrand
Best international film
The Beasts (As Bestas)
Close
The Cairo Conspiracy
Eo
Triangle Of Sadness.
Best Sound
Cyril Moisson, Nicolas Moreau, Cyril Holtz, Rise
Laurent Benaïm, Alexis Meynet, Olivier Guillaume,The Innocent
Cédric Delouche, Alexis Place, Gwennolé Le Borgne, Marc Doisne, November
François Maurel, Olivier Mortier, Luc Thomas, The Night Of The 12th
Jordi Ribas, Benjamin Laurent, Brunno Tarrière, Pacification